CPVC pipe and fittings are used every day in residential, commercial and multifamily fire protection systems. One brand – BlazeMaster® CPVC – has performed well for years. While there are many reasons for this, I'd like to focus on one – the FBCTM System Compatible Program – the oldest and most trusted chemical compatibility program in the industry. It's one reason contractors, designers and engineers can be more assured of a high-quality installation. The program helps you avoid costly system failures such as a 19-story newly-renovated Dallas hotel and a 10-story multifamily complex in Louisiana recently experienced by a competitive brand.
Fire protection systems are only as reliable as the supply mains that serve them.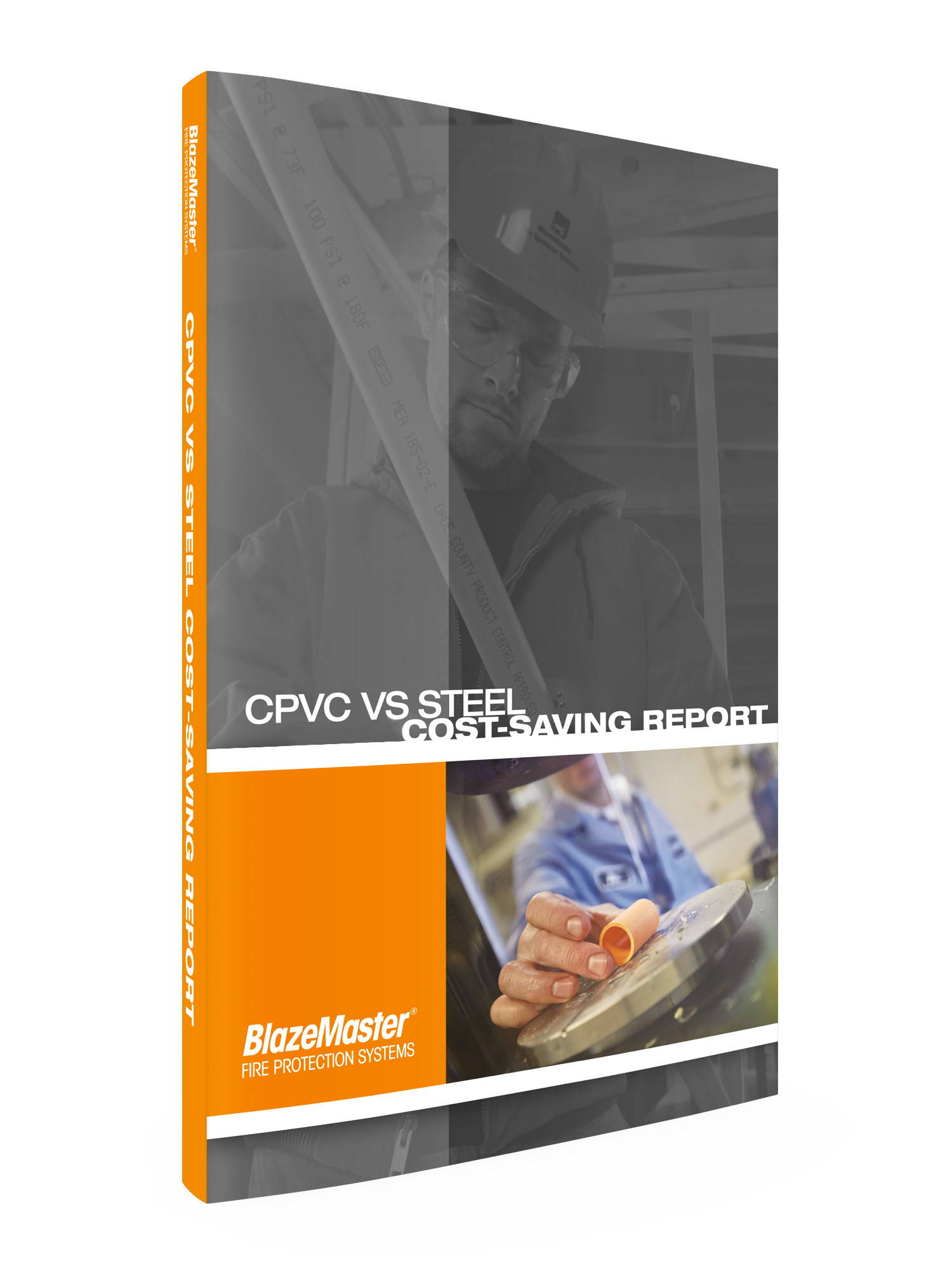 Cost-Savings Report
Discover how to save time and money with the right fire sprinkler system.
Commercial | Listings and Innovations
BlazeMaster® Fire Protection Systems stand alone in the fire protection industry with a unique UL® listing among manufacturers for embedding CPVC in concrete. As new construction methods today make use more and more of concrete ceilings, embedding the fire sprinkler system in those ceilings eliminates the need and costs of drop ceilings and fire sprinkler system hangers (in the case of steel systems). It also has the added aesthetic benefit of hiding the system within the ceiling.
CPVC, steel and PEX are common materials used for fire sprinkler systems. Their unique material thicknesses and smoothness ratings both affect cost and flow rates. BlazeMasterⓇ CPVC pipes, produced in SDR 13.5 dimensions with a Hazen-Williams C factor of 150, can improve the performance of your system and lower costs. BlazeMaster CPVC has stable pricing, a smooth surface, resists the effects of microbiologically influenced corrosion (MIC), and has an easy, cost-effective installation process.
For nearly 20 years the FBCTM System Compatible Program has been the leading chemical compatibility resource for the Fire Protection Industry when it comes it comes to installation of BlazeMaster® Fire Protection Systems. The program is the oldest and most comprehensive such platform in the industry.
Adrian Peschi, LCAM, knew that if the retrofit to the 338-unit high-rise apartment building he manages in Fort Lauderdale went poorly, he'd hear it from hundreds of unofficial supervisors—the residents.
Livingston, a 15,000 living unit community in Alberta, Canada, is believed to be the largest community in North America to make residential sprinklers a standard feature in all homes from its inception. A recent demonstration shows the community why fire sprinkler systems are so vital and why others should follow suit.
All piping materials expand and contract as a result of temperature change. As the temperature increases, pipes expand. When the temperature decreases, pipes contract. If left unaccounted for while designing a fire protection system, thermal expansion can cause the system to fail prematurely, resulting in unnecessary repairs and reliability concerns.
House fires spread faster than they used to. Modern, often synthetic materials burn quicker and hotter than traditional furnishings. It only takes three minutes for these materials to reach their autoignition temperature before they emit flammable gases. In less than five minutes, flashover can occur and engulf the entire home in flames. To help limit the spread of fires, communities across the nation are implementing ordinances requiring home fire protection systems in new single and double family residences.
BlazeMaster® Fire Protection Systems joins with the NFSA in encouraging everyone associated with the fire sprinkler industry to reach out to your Senators immediately to request that they co-sponsor S. 803 legislation.