Since 1922, the NFPA has sponsored public observances of Fire Prevention Week. Celebrated in October around the anniversary of the Great Chicago Fire, which began on October 8, 1871, the effort is about providing lifesaving education in an effort to decrease casualties caused by fire. We at BlazeMaster® Fire Protection Systems are proud to support the NFPA and proud to work every day toward reducing the casualties and property damage cause by fire. Each week of October, we'll profile one of our partners in this mission.
BlazeMaster vs. Generic | Installation | Listings and Innovations
BlazeMaster® Fire Protection Systems was the first CPVC fire sprinkler piping system on the market. For over 30 years, we have worked with our manufacturing partners to develop innovations that enable safer and easier installs, ultimately helping to protect more lives and property.
BlazeMaster vs. Generic | BlazeMaster vs. Steel | Blazemaster CPVC | CPVC | Commercial | Residential | blazemaster fire protection systems | cpvc fire sprinkler systems | fire sprinkler systems
In today's fire protection systems, BlazeMaster™ CPVC is everywhere – it's the most specified fire sprinkler pipe and fitting system of its type in the world. But how did we get here? We're proud that CPVC was invented in our labs, which gives us a unique vantage point on where these materials started – and how we've worked to enhance them over the decades.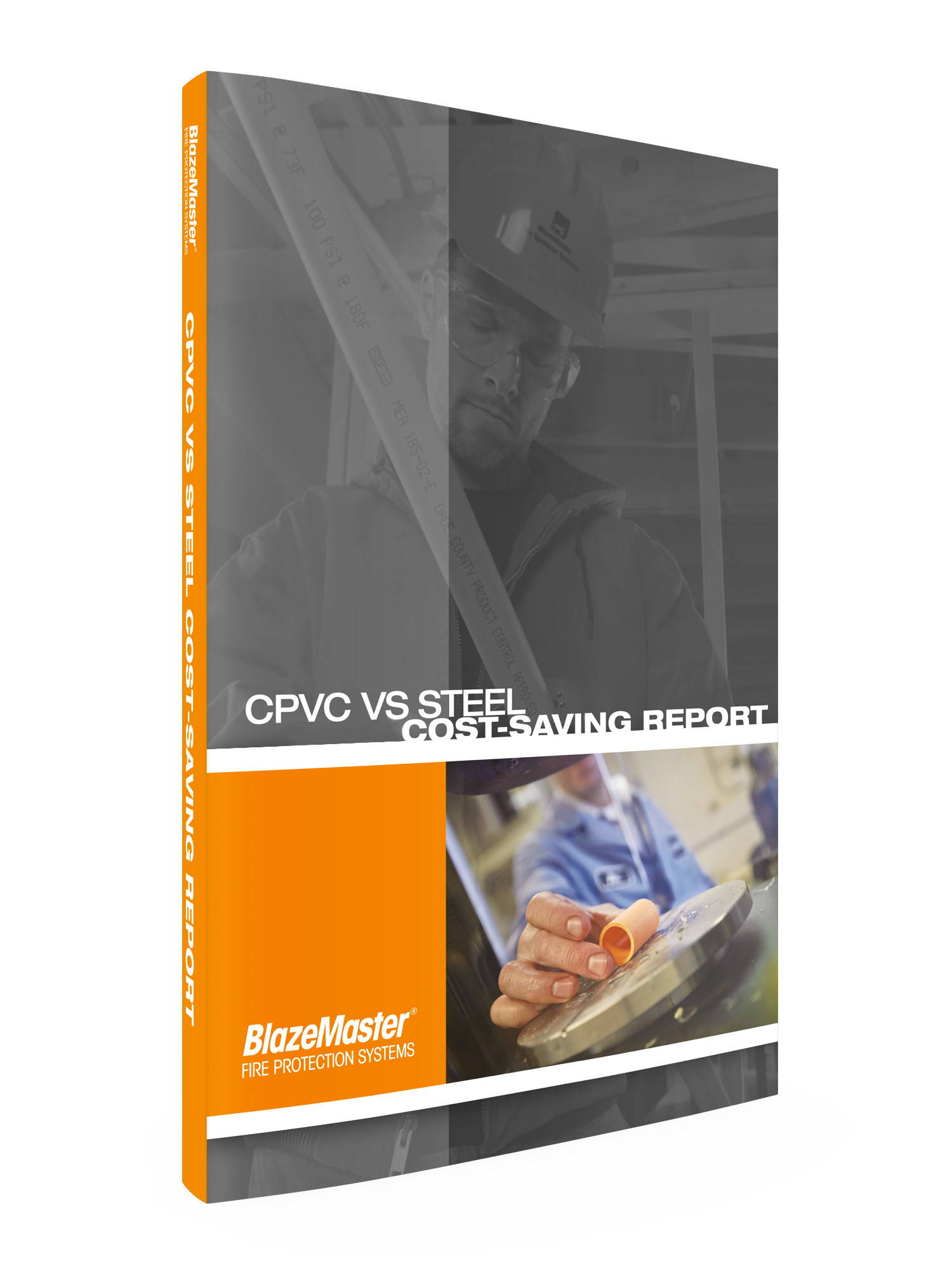 Cost-Savings Report
Discover how to save time and money with the right fire sprinkler system.
BlazeMaster vs. Generic | BlazeMaster vs. Steel
Fire sprinkler systems are designed to protect lives and property. But for building owners and contractors, the system must also protect your reputation from risks ranging from leaks and malfunctions to disruptions for occupants.
BlazeMaster vs. Generic | BlazeMaster vs. Steel
It's a fact: BlazeMaster® CPVC is the world's most specified non-metallic fire sprinkler system pipe and fitting material. Every day since it was introduced in 1984, BlazeMaster CPVC has saved the lives of countless individuals, firefighters and other safety professionals and prevented property damage.
Somewhere, a fire started last night that resulted in minimal damage to property. No lives were lost. No firefighter was put in harm's way. There may be an insurance claim or two, but it isn't as devastating as it might have been.
BlazeMaster vs. Generic | Chemical Compatibility
One of the value-added services that BlazeMaster® CPVC offers is that of failure analysis. We recognize that there are occasional issues in the field. It is in everyone's best interest that the root cause of the problem be determined to help prevent it from re-occurring.
BlazeMaster vs. Generic | Residential
At the same time as more state and local codes require fire sprinkler systems – and responsible home builders in areas where they are not required offer such systems as options to their buyers – the discussion of what piping material is best suited for single family home installations has been tossed around by many builders. This has brought the question of using CPVC or PEX systems to the forefront.
BlazeMaster vs. Generic | Chemical Compatibility
Lubrizol Advanced Materials' BlazeMaster® CPVC is the most tested CPVC fire protection material on the market. In fact, we're so confident in the quality of BlazeMaster Fire Protection Systems, both in physical properties (burst and impact resistance testing) and chemical compatibility, testing is conducted by or overseen by third parties.
Fire sprinkler system failures in prominent hotel and apartment properties in Dallas and Baton Rouge over the past year are reminders of the need to understand key CPVC installation issues such as chemical compatibility. They're also a reminder that nothing replaces training – even of the "refresher" variety – when it comes to fire protection system installation. Having the proper knowledge before, during and after installation is critical for all involved in designing, specifying, installing and servicing a fire sprinkler system.
BlazeMaster vs. Generic | Chemical Compatibility
For more than 30 years CPVC has been the material of choice for many fire protection systems worldwide, with advantages over steel such as lower initial cost, ease and safety of installation, and a lower cost of ownership that includes better flow rates and reduced maintenance.