Since 1922, the NFPA has sponsored public observances of Fire Prevention Week. Celebrated in October around the anniversary of the Great Chicago Fire, which began on October 8, 1871, the effort is about providing lifesaving education in an effort to decrease casualties caused by fire. We at BlazeMaster® Fire Protection Systems are proud to support the NFPA and proud to work every day toward reducing the casualties and property damage cause by fire. Each week of October, we'll profile one of our partners in this mission.
Chemical compatibility continues to be a topic of significant interest in the fire protection industry. Let's take a moment to dispel common myths about chemical compatibility.
BlazeMaster vs. Generic | Chemical Compatibility
One of the value-added services that BlazeMaster® CPVC offers is that of failure analysis. We recognize that there are occasional issues in the field. It is in everyone's best interest that the root cause of the problem be determined to help prevent it from re-occurring.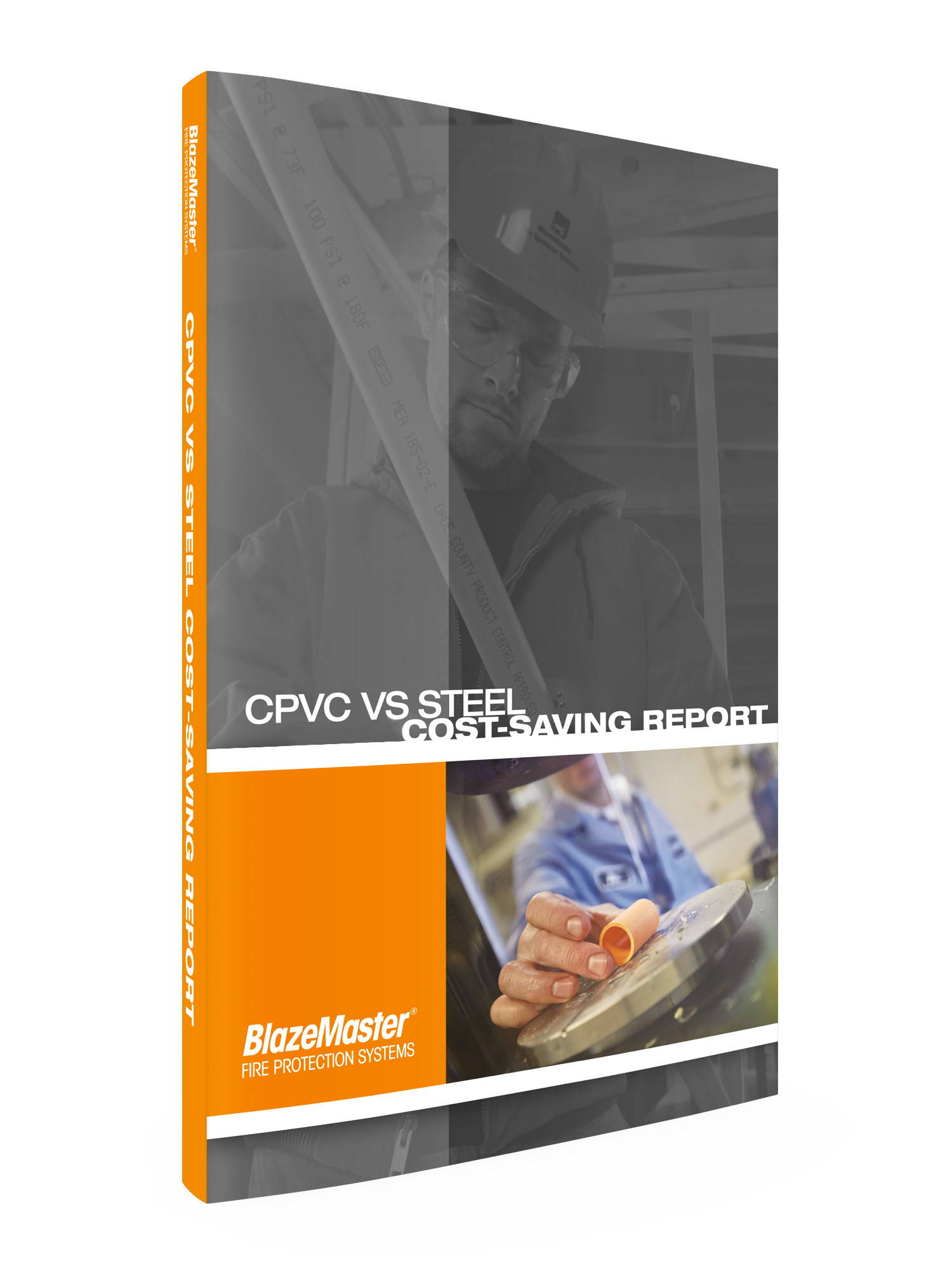 Cost-Savings Report
Discover how to save time and money with the right fire sprinkler system.
In the course of installing a CPVC fire sprinkler system in virtually any setting, the potential for the pipe and fittings to come into contact with flexible wire and cable presents itself. While BlazeMaster® CPVC realizes that this may be inevitable, we strongly recommend that fire protection system installers do their best to work with other contractors and review jobsite notification documents from piping manufacturers to avoid such contact if at all possible. If building design requires that the piping and wiring/cabling be installed in tight spaces where contact is unavoidable, consider using a compatible material as a buffer between the two.
Mold and microbial inhibitors are sometimes used in buildings where water damage has been sustained or where general humidity and moisture can result in mold growth. Such products have varying uses. They may be used in new construction or existing buildings as either cleaners to treat construction surfaces or primers for latex paints to remove mold, reduce mold growth or create a microbial barrier for mold prevention.
BlazeMaster vs. Generic | Chemical Compatibility
Lubrizol Advanced Materials' BlazeMaster® CPVC is the most tested CPVC fire protection material on the market. In fact, we're so confident in the quality of BlazeMaster Fire Protection Systems, both in physical properties (burst and impact resistance testing) and chemical compatibility, testing is conducted by or overseen by third parties.
BlazeMaster vs. Generic | Chemical Compatibility
For more than 30 years CPVC has been the material of choice for many fire protection systems worldwide, with advantages over steel such as lower initial cost, ease and safety of installation, and a lower cost of ownership that includes better flow rates and reduced maintenance.
CPVC pipe and fittings are used every day in residential, commercial and multifamily fire protection systems. One brand – BlazeMaster® CPVC – has performed well for years. While there are many reasons for this, I'd like to focus on one – the FBCTM System Compatible Program – the oldest and most trusted chemical compatibility program in the industry. It's one reason contractors, designers and engineers can be more assured of a high-quality installation. The program helps you avoid costly system failures such as a 19-story newly-renovated Dallas hotel and a 10-story multifamily complex in Louisiana recently experienced by a competitive brand.
For nearly 20 years the FBCTM System Compatible Program has been the leading chemical compatibility resource for the Fire Protection Industry when it comes it comes to installation of BlazeMaster® Fire Protection Systems. The program is the oldest and most comprehensive such platform in the industry.
BlazeMaster vs. Generic | Chemical Compatibility | Residential
Fire protection system failures at a 19-story newly-renovated Dallas hotel and a 10-story multifamily complex in Louisiana resulted in the need to temporarily relocate residents and guests, lost revenue, property damage that led to hundreds of thousands of dollars in repair bills and, in the Dallas incident, deployment of key fire department personnel onsite for extended watch for more than three months.
BlazeMasterⓇ Fire Protection Systems devotes time and resources to knowledge-sharing and testing to ensure products can be used safely and effectively. Chemical compatibility is often top of mind when working with CPVC. Spray foam, drywall and concrete are three common construction materials often in direct contact with BlazeMaster CPVC products, but with proper care, all three can be used without compatibility concerns.