BlazeMaster vs. Generic | BlazeMaster vs. Steel | Blazemaster CPVC | CPVC | Commercial | Residential | blazemaster fire protection systems | cpvc fire sprinkler systems | fire sprinkler systems
In today's fire protection systems, BlazeMaster™ CPVC is everywhere – it's the most specified fire sprinkler pipe and fitting system of its type in the world. But how did we get here? We're proud that CPVC was invented in our labs, which gives us a unique vantage point on where these materials started – and how we've worked to enhance them over the decades.
While we all enjoy a breath of ocean breeze, the salt air in coastal climates is corrosive to metal – including steel pipes that make up a fire sprinkler system. That's why corrosion-resistant BlazeMaster® Fire Protection Systems is an obvious choice for coastal buildings; Blazemaster systems can be used to protect all light hazard structures from hotels and condos, to offices and hospitals, to piers and docks, BlazeMaster CPVC eliminates corrosion concerns.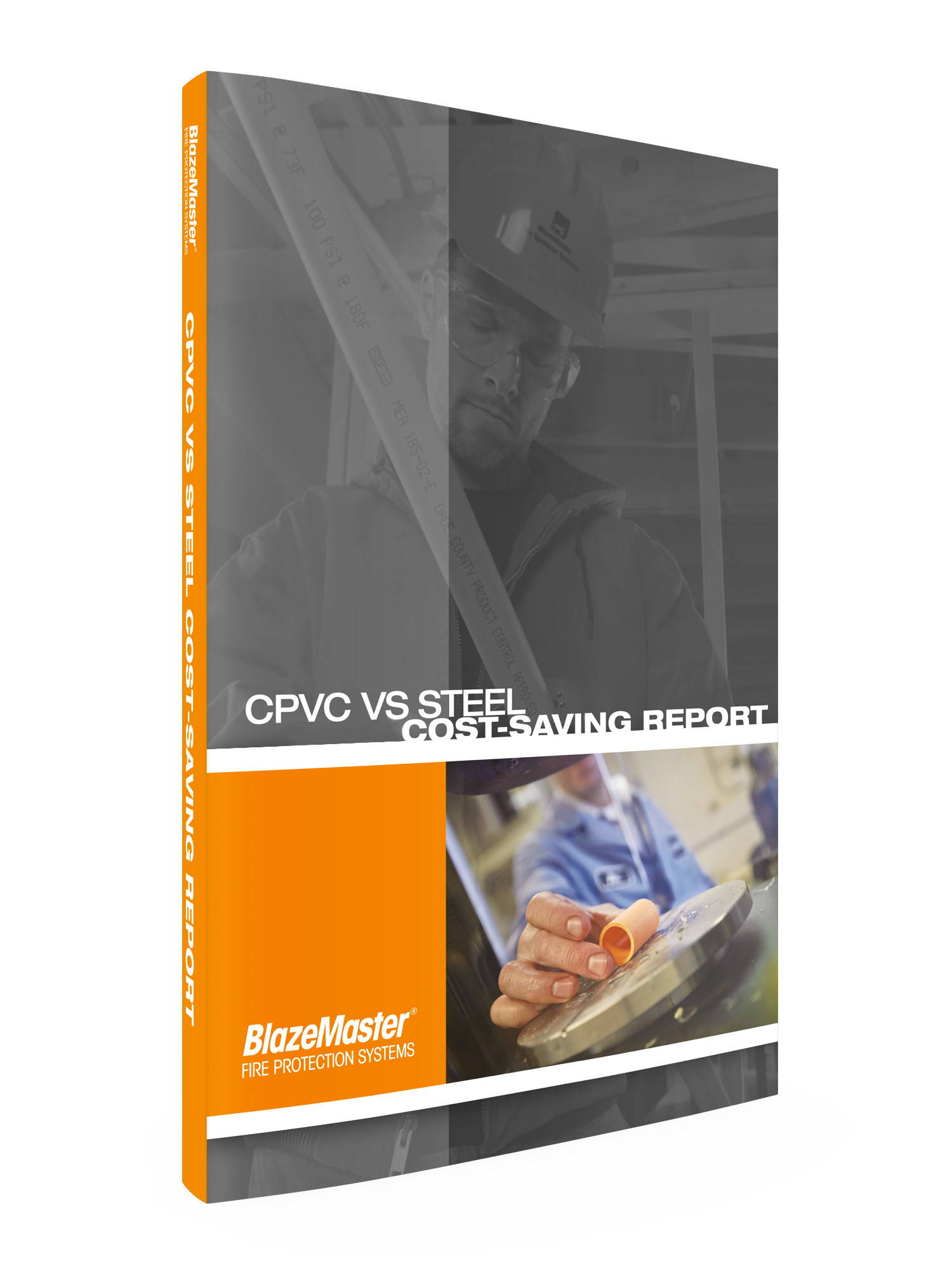 Cost-Savings Report
Discover how to save time and money with the right fire sprinkler system.
BlazeMaster vs. Steel | Commercial | Installation | Residential
When planning to install a fire sprinkler system in an existing building, key factors to consider include the cost of labor and materials, speed of implementation, potential disruptions for occupants, long-term durability and more. BlazeMaster® Fire Protection Systems provides clear advantages across the board that make it the best option for retrofits.
An online search for the word sustainability reveals this initial definition: "the ability to be maintained at a certain rate or level."
BlazeMaster vs. Steel | Commercial
When designing fire protection systems for docks and marinas, it's a logical choice to specify BlazeMaster® CPVC primarily due to its corrosion resistance. However, there is some misunderstanding in the market that these types of facilities are always considered "ordinary hazard" under NFPA 13, which means steel pipe must be used. In fact, fire officials have flexibility to classify these facilities as light hazard based on a variety of factors.
Until BlazeMaster CPVC® fire protection systems were introduced in 1984 – changing the fire sprinkler protection industry for the better – steel was the material of choice for fire sprinkler system pipe and fittings worldwide. Steel's strength and resistance to heat made it a logical choice.
BlazeMaster vs. Generic | BlazeMaster vs. Steel
Fire sprinkler systems are designed to protect lives and property. But for building owners and contractors, the system must also protect your reputation from risks ranging from leaks and malfunctions to disruptions for occupants.
BlazeMaster vs. Generic | BlazeMaster vs. Steel
It's a fact: BlazeMaster® CPVC is the world's most specified non-metallic fire sprinkler system pipe and fitting material. Every day since it was introduced in 1984, BlazeMaster CPVC has saved the lives of countless individuals, firefighters and other safety professionals and prevented property damage.
BlazeMaster vs. Steel | Commercial | Listings and Innovations
Fire sprinkler system installers who are looking for a competitive edge have a unique opportunity when using BlazeMaster® CPVC pipe and fittings. As concrete is used as a building material for ceilings and walls in office buildings, schools, apartments, health care facilities and even private homes, it's good to know that BlazeMaster CPVC has a unique Underwriter's Laboratories (UL) listing for embedding in concrete.
BlazeMaster vs. Steel | Listings and Innovations
Here are two facts that we would like to share with designers, specifiers, installers and building owners regarding the use of BlazeMaster® CPVC in combustible concealed spaces: