Installation methods for fire protection systems vary depending on the materials involved. Each material's specific joining method has a direct impact on three key factors: Cost: Installation and labor accounts for more than half of the system's total upfront cost. Time: In new builds, construction deadlines may be tight. In retrofits, the building may remain occupied during construction, which means the system must be completed as quickly as possible. Reliability: Installation mistakes can lead to premature failures and unnecessary repairs, resulting in an unreliable system in the event of a fire. For this reason, contractors and installers can benefit from being proactive in their piping material recommendations to building owners.
The importance of fire sprinkler systems in building design cannot be overstated. In fact, there has never been a building fire that resulted in multiple-occupant loss of life when the structure had a properly designed, installed and maintained fire sprinkler system using certified components.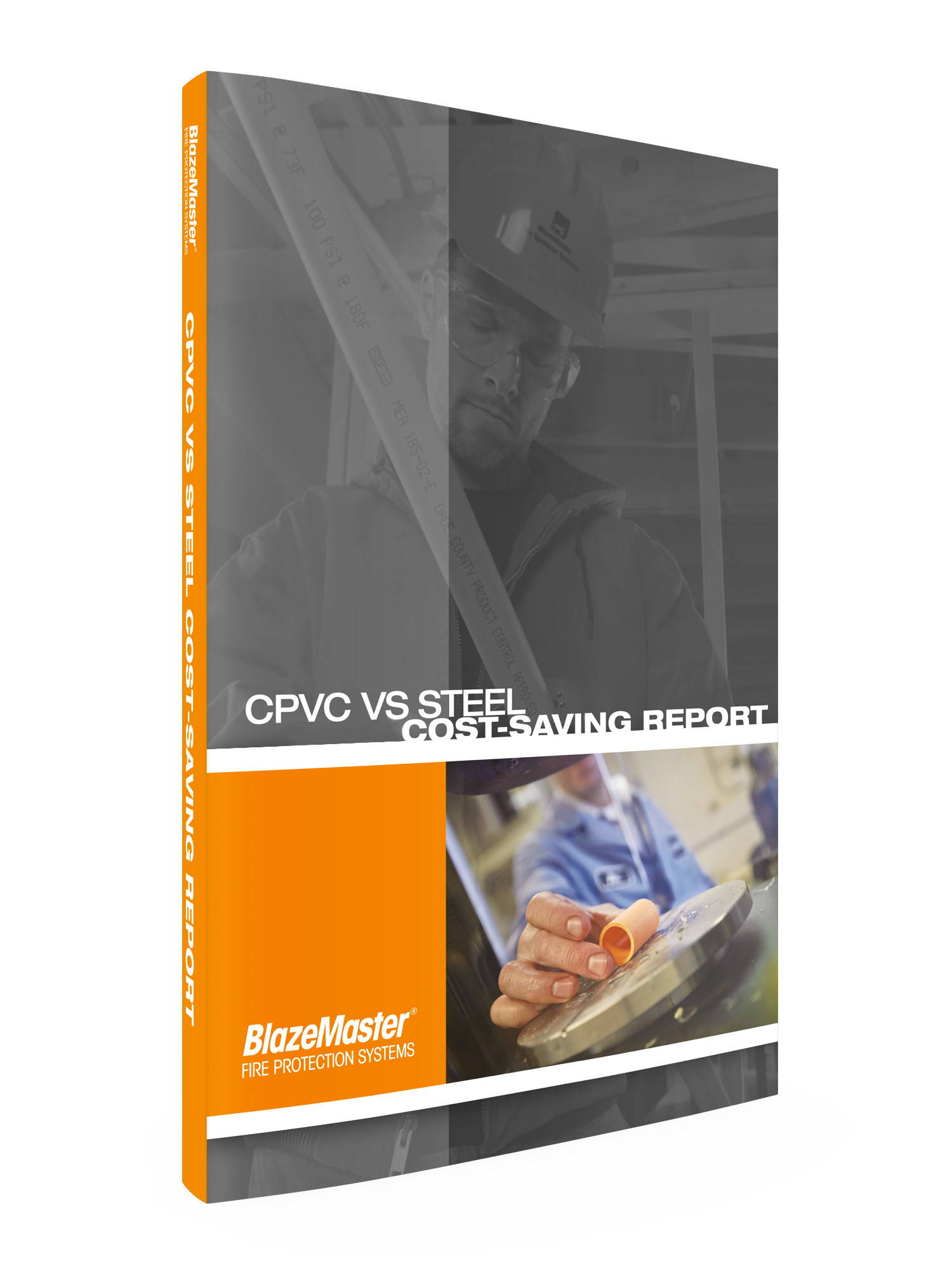 2018 Cost-Savings Report
Discover how to save time and money with the right fire sprinkler system.
All light hazard fire sprinkler system applications in seismic regions must have a properly braced system in order to withstand the effects of possible earthquakes. Strict building codes and requirements exist to ensure the safety of citizens, especially those along fault lines. With lives at stake, fire sprinkler system specifiers and installers must select the proper materials and meet bracing requirements.
Cost Savings | Installation | Material Comparison
One of the distinct advantages of BlazeMaster® CPVC over steel piping is time saved and ease of installation. BlazeMaster CPVC installation can greatly reduce the number of laborers required, eliminate the high price tag of skilled welders and help keep projects on schedule and on budget. BlazeMaster CPVC also has more stable material costs compared to metallic alternatives while still offering long-term reliability.
Building Owners | Contractors | Installation
The long-term reliability of any fire sprinkler system comes down to two things: 1. The quality of the piping material and 2. The installation. Selecting the contractor to install your fire protection system is one of the most important decisions you'll make in this process.
Whether part of a new system or replacing old or damaged heads, sprinkler head effectiveness and reliability often come down to proper installation. Our team of fire system experts has put together a general overview on how to properly install fire sprinkler heads with BlazeMaster® CPVC. The following steps will ensure leak-free, reliable, and properly positioned sprinkler heads. It is important to note that the following are general guidelines. BlazeMaster Fire Sprinkler Systems advises contractors review manufacturer instructions before installation.
The following is an excerpt from The Complete Guide To Solvent Cement & CPVC Fire Protection Systems. Download the full guide to discover more on what solvent cement is, how it works, the process for utilizing it in fire sprinkler applications and special considerations for successful installation.
A simple cut-and-join process is one of the many advantages of BlazeMaster® Fire Protection Systems. By following a few simple steps, installers can cut CPVC piping to the desired length in just a few minutes and ensure a clean, straight edge every time.
CPVC installation is quick, easy, and cost-effective. Installation of CPVC piping is done through a simple one-step joining system so no torches or heat-fusion techniques are needed. Additionally, because CPVC is lightweight, installations in hard-to-reach places are completed more easily. Whether you've used BlazeMaster® Pipe and Fittings before or if this is your first time, following best practices will ensure proper installation and a reliable, long-lasting fire sprinkler system.
Proper fire sprinkler system installation is crucial to its long-term success and reliability. For this reason, BlazeMaster® Fire Protection Systems has developed a free online training program covering installation best practices and sharing valuable resources. At your own pace, work through the course material, and upon completion (and at Lubrizol's discretion), you will receive a BlazeMaster online installation training card and certificate.