Since 1922, the NFPA has sponsored public observances of Fire Prevention Week. Celebrated in October around the anniversary of the Great Chicago Fire, which began on October 8, 1871, the effort is about providing lifesaving education in an effort to decrease casualties caused by fire. We at BlazeMaster® Fire Protection Systems are proud to support the NFPA and proud to work every day toward reducing the casualties and property damage cause by fire. Each week of October, we'll profile one of our partners in this mission.
BlazeMaster vs. Generic | Installation | Listings and Innovations
BlazeMaster® Fire Protection Systems was the first CPVC fire sprinkler piping system on the market. For over 30 years, we have worked with our manufacturing partners to develop innovations that enable safer and easier installs, ultimately helping to protect more lives and property.
BlazeMaster vs. Steel | Commercial | Installation | Residential
When planning to install a fire sprinkler system in an existing building, key factors to consider include the cost of labor and materials, speed of implementation, potential disruptions for occupants, long-term durability and more. BlazeMaster® Fire Protection Systems provides clear advantages across the board that make it the best option for retrofits.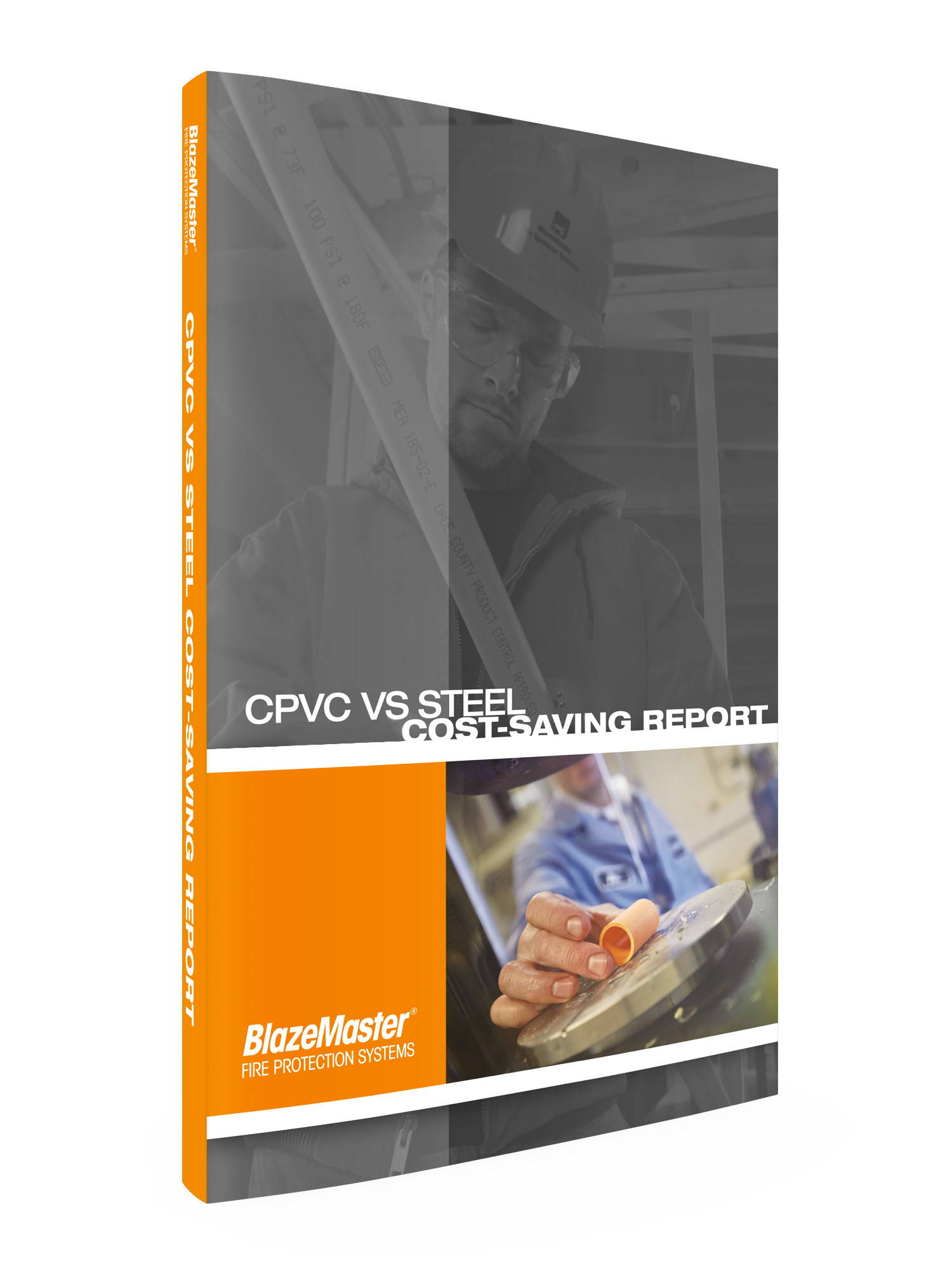 Cost-Savings Report
Discover how to save time and money with the right fire sprinkler system.
Viking announces its new line of InstaSeal® Sprinkler Head Adapters manufactured with BlazeMaster® CPVC, designed to speed installation with no need for thread tape or sealant. The adapters' full brass thread inserts prevent the potential for cross-threading while providing a tight seal every time via its EPDM seat.
Whether you have been installing BlazeMaster® Fire Protection Systems for 10 years or 10 days, it's always a good idea to go back to the basics once in a while. Just as professional athletes practice the same play or motion over and over, they sit down for a "chalk talk" on occasion to discuss they "whys" behind the "whats."
Most fire sprinkler systems will require modification at some point over their long lifetime of providing safety to people and protection for property.
BlazeMaster® CPVC is a strong, durable material that maintains its structure better than most commonly used plastics.
All piping materials expand and contract as a result of temperature change. As the temperature increases, pipes expand. When the temperature decreases, pipes contract. If left unaccounted for while designing a fire protection system, thermal expansion can cause the system to fail prematurely, resulting in unnecessary repairs and reliability concerns.
BlazeMaster vs. Steel | Installation
Installation methods for fire protection systems vary depending on the materials involved. Each material's specific joining method has a direct impact on three key factors: Cost: Installation and labor accounts for more than half of the system's total upfront cost. Time: In new builds, construction deadlines may be tight. In retrofits, the building may remain occupied during construction, which means the system must be completed as quickly as possible. Reliability: Installation mistakes can lead to premature failures and unnecessary repairs, resulting in an unreliable system in the event of a fire. For this reason, contractors and installers can benefit from being proactive in their piping material recommendations to building owners.
Installation | Listings and Innovations
All light hazard fire sprinkler system applications in seismic regions must have a properly braced system in order to withstand the effects of possible earthquakes. Strict building codes and requirements exist to ensure the safety of citizens, especially those along fault lines. With lives at stake, fire sprinkler system specifiers and installers must select the proper materials and meet bracing requirements.
BlazeMaster vs. Steel | Installation
One of the distinct advantages of BlazeMaster® CPVC over steel piping is time saved and ease of installation. BlazeMaster CPVC installation can greatly reduce the number of laborers required, eliminate the high price tag of skilled welders and help keep projects on schedule and on budget. BlazeMaster CPVC also has more stable material costs compared to metallic alternatives while still offering long-term reliability.