BlazeMaster® Fire Protection Systems stand alone in the fire protection industry with a unique UL® listing among manufacturers for embedding CPVC in concrete. As new construction methods today make use more and more of concrete ceilings, embedding the fire sprinkler system in those ceilings eliminates the need and costs of drop ceilings and fire sprinkler system hangers (in the case of steel systems). It also has the added aesthetic benefit of hiding the system within the ceiling.
Blazemaster CPVC | US Resources
Fire protection system failures at a 19-story newly-renovated Dallas hotel and a 10-story multifamily complex in Louisiana resulted in the need to temporarily relocate residents and guests, lost revenue, property damage that led to hundreds of thousands of dollars in repair bills and, in the Dallas incident, deployment of key fire department personnel onsite for extended watch for more than three months.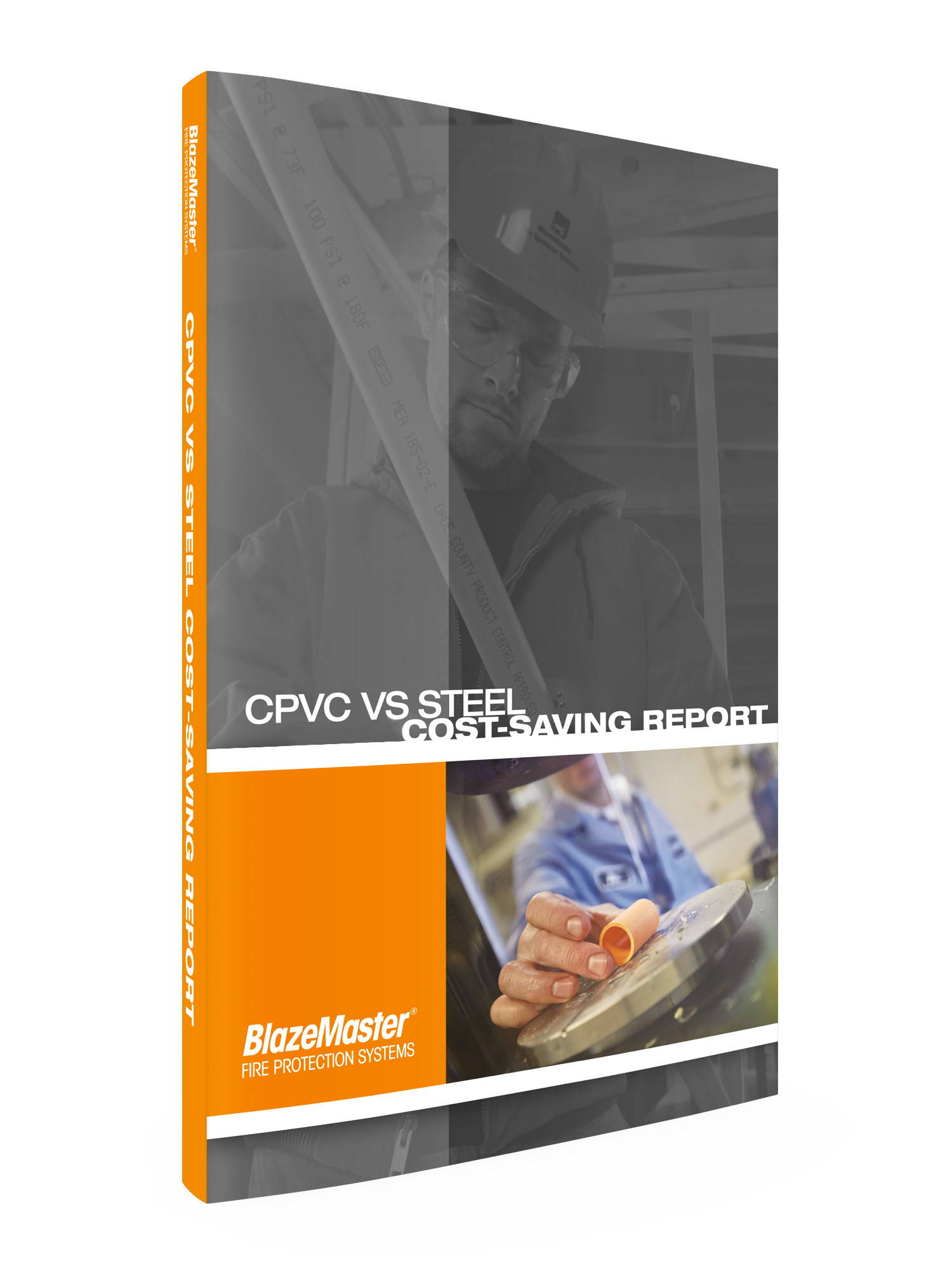 2018 Cost-Savings Report
Discover how to save time and money with the right fire sprinkler system.
Case Studies | Residential | US Resources
What started as routine maintenance at a Jamestown, North Carolina multi-family complex turned into a dangerous, life-threatening situation for a construction team member of LEC Properties Incorporated. The team member was cleaning the weeks-old, 460-unit luxury Crowne Lake Two when fuel used to refill a pressure washer in the breezeway spilled onto the already hot exhaust system, igniting into a blazing fire.
Case Studies | Contractors | Installation | US Resources
Largest dorm in North America completes fire sprinkler retrofit in record 11 months without displacing students With 3,000 beds inside and one-million+ square feet of housing comprising an entire city block, Jester Center at the University of Texas Austin was recognized as the largest dormitory in North America when it was built.
Case Studies | Contractors | Cost Savings | Material Comparison | US Resources
Conversion to BlazeMaster® CPVC Pipe Allows Leading Southeast Sprinkler Contractor To Meet Schedules Not Possible With Steel Affordable Fire Protection, Inc. (AFP), one of the largest fire sprinkler contractors in the Southeast, promotes itself as having been an early adopter of BlazeMaster Fire Protection Systems, and for good reason. With more than 200 employees installing, on average, 200,000 sprinklers each year, the rapidly growing company has its hands full with a broad range of multi-family, high-rise and light hazard projects – each with its own tight construction schedule.
Case Studies | Material Comparison | Residential | Retrofit | US Resources
When five students died tragically in a fire at the University of North Carolina, Wake Forest University in Winston-Salem, N.C., embarked on an ambitious program to retrofit all campus housing with fire sprinkler systems. The university was limited to working on the project from mid-May to mid-August, when the number of students requiring campus housing was greatly reduced. Two buildings were completed during the first summer, then four in the summer of 1998, and six in 1999.