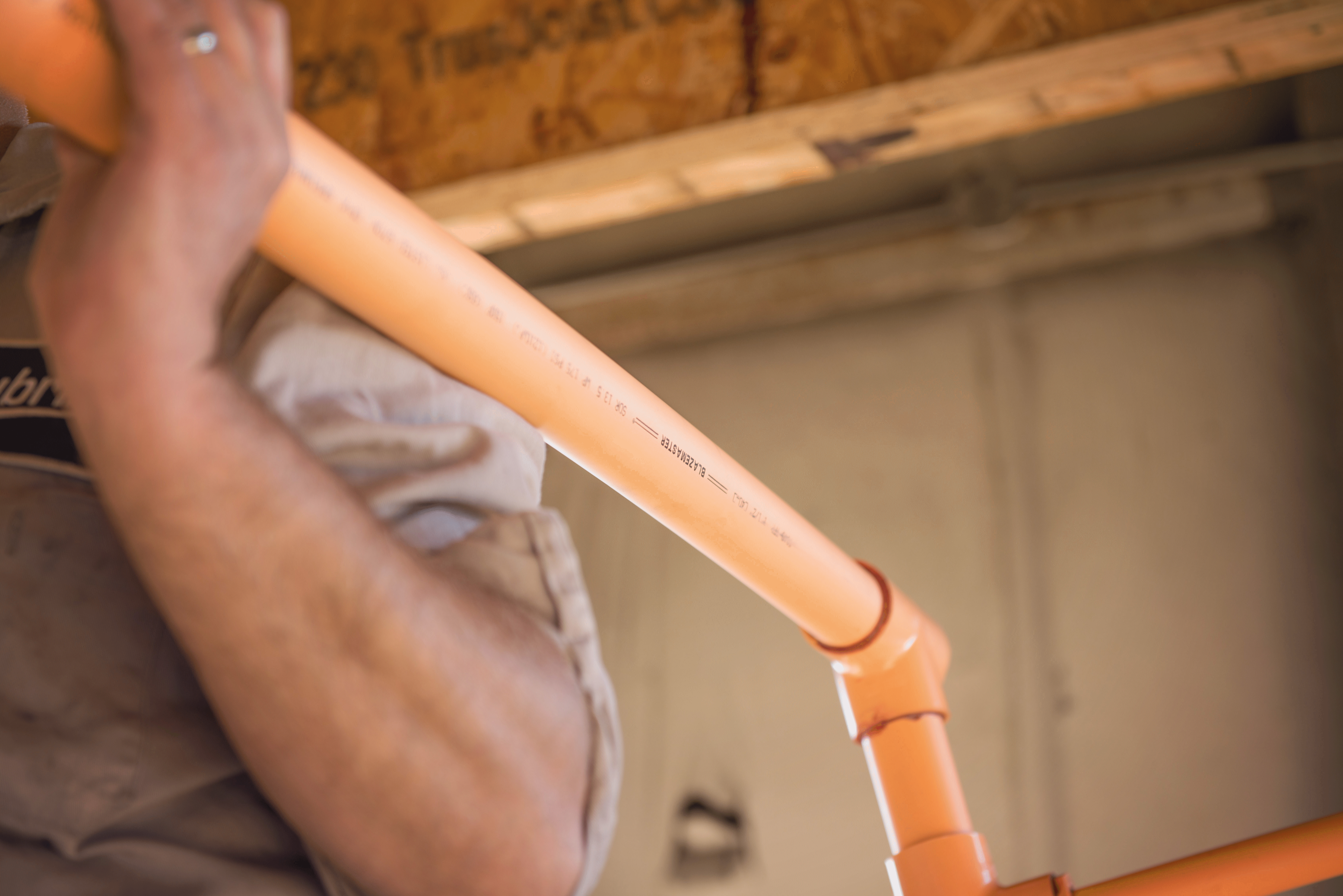 Subscribe
How to Navigate Fire Sprinkler System Material Selection
As you plan a fire sprinkler system project, choosing the right materials is a critical early step as the products you choose can have a major impact on the initial cost, the longer-term maintenance costs, and the overall performance and dependability of the system.
In evaluating piping system material options, there are two primary choices: steel and CPVC. As a first step, it's essential to understand the relevant building codes in your area. Consult with a fire protection system professional such as a contractor, specifier or authority having jurisdiction (AHJ). Additionally, it is important you consider these key issues as you evaluate options.
Steel vs. CPVC
CPVC, such as BlazeMaster® Fire Protection Systems, offers significant advantages over steel pipe.
Resistance to corrosion and scaling. Steel pipes are prone to leaks, clogs and diminished water flow due to corrosion and scaling (mineral build ups). In comparison, BlazeMaster CPVC is immune from these problems, ensuring dependable performance for 50 years or more. Corrosion and scaling lead to higher long-term maintenance costs compared to CPVC.
Better flow rates. BlazeMaster CPVC is smoother than steel, which ensures water flows more easily. Smoothness is measured by the Hazen-Williams C Factor, with a higher C factor indicating a smoother pipe. BlazeMaster CPVC's C Factor is 150, compared to steel's 120.
Lower materials costs. BlazeMaster CPVC offers up to a 30 percent cost advantage over traditional all-steel installations.
Easier installation. Steel requires a power source, welding equipment and noisy threading machines. By contrast, installation of BlazeMaster CPVC is a one-man job using simple hand tools. The lightweight CPVC piping fits into tighter spaces more easily, further streamlining installation. These advantages provide lower installation costs to go along the advantage on material costs.
Less environmental impact. Compared with steel, CPVC is much less harmful to produce and has half the climate change impact. An independent ISO-compliant assessment found that BlazeMaster CPVC outperformed steel pipe in 12 of 13 categories.
BlazeMaster CPVC vs. Other CPVC
Compared with other CPVC products, BlazeMaster CPVC offers many critical advantages, including:
Broader certifications. BlazeMaster CPVC meets and exceeds global performance and manufacturing standards well beyond its competitors. For instance, BlazeMaster CPVC is listed by Underwriters Laboratory to be embedded in concrete, unlike other brands. BlazeMaster CPVC is also the first sprinkler system listed as approved for use in exposed basements with 16-inch solid wood joists.
Superior burst and impact resistance. In independent testing, BlazeMaster CPVC outperformed the competition in burst and impact resistance. That's a key factor in ensuring dependable long-term performance.
Industry-leading training and support. Efficient, high-quality installation is a critical factor in ensuring a fire sprinkler system works as designed. BlazeMaster CPVC offers online training as well as hands-on training at customer locations to support installers, contractors, engineers and constructions manager in best practices for safe, efficient installation.
Proven manufacturing partners. To ensure BlazeMaster CPVC products meet demanding standards, we work only with leading manufacturers with proven track records for producing quality materials.
No guesswork on chemical compatibility. To perform as planned, the compounds and resins in CPVC pipe must interact safely with the materials in ancillary products made by other companies, such as thread sealers, gasket lubricants and firestop products. With BlazeMaster CPVC, it's easy to know which products to choose using the FBC™ System Compatible Program, which requires suppliers complete third-party validation and audits of manufacturing sites. Competitors may offer lists of recommended products, but without the assurances and convenience of the FBC™ System Compatible Program. For fire sprinkler systems, the FBC™ System Compatible Program only covers BlazeMaster CPVC pipe and fittings – not competitive products!
Based on its success in these issues, BlazeMaster CPVC has established itself as the trusted choice in the fire protection industry.