Since 1922, the NFPA has sponsored public observances of Fire Prevention Week. Celebrated in October around the anniversary of the Great Chicago Fire, which began on October 8, 1871, the effort is about providing lifesaving education in an effort to decrease casualties caused by fire. We at BlazeMaster® Fire Protection Systems are proud to support the NFPA and proud to work every day toward reducing the casualties and property damage cause by fire. Each week of October, we'll profile one of our partners in this mission.
Blazemaster CPVC | CPVC | Video | blazemaster fire protection systems | cpvc fire sprinkler systems | fire protection inspections | fire sprinkler installation | fire sprinkler systems
I recently had the opportunity to talk with Drew Slocum, Co-Founder of Inspect Point, a company that offers a mobile app to streamline fire and life-safety inspections. Drew is an industry veteran who helped start Inspect Point several years ago after working with key CPVC manufacturers Tyco and Viking.
Blazemaster CPVC | CPVC | blazemaster fire protection systems | covid19 | cpvc fire sprinkler systems | fire sprinkler installation | fire sprinkler systems | small business
We can all be proud that our fire protection industry has played a critical role in the response to the COVID-19 pandemic. As outlined by the National Fire Sprinkler Association, fire protection was deemed "essential" based on the critical need to respond to repairs and outages as well as inspection, testing and maintenance.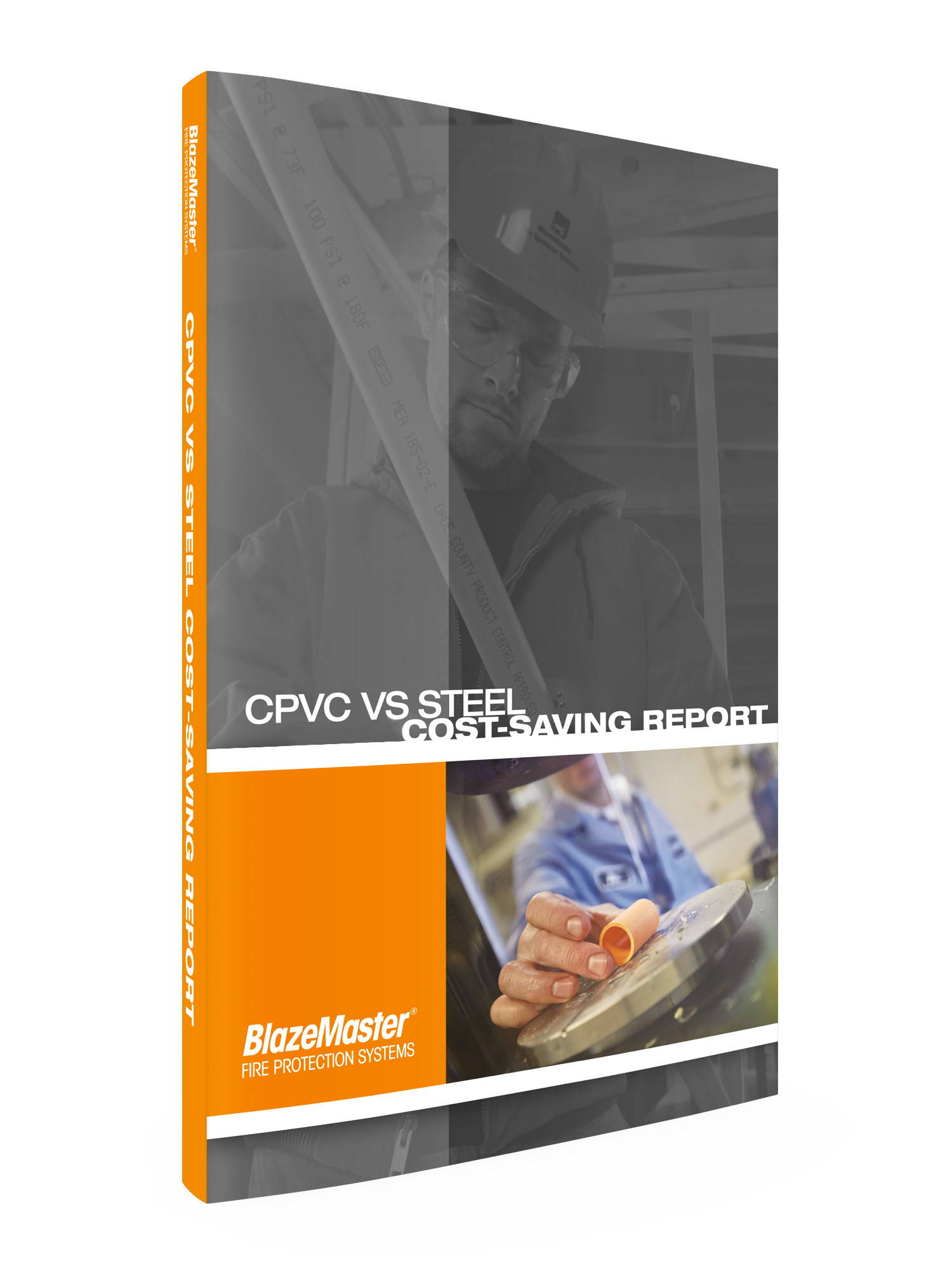 Cost-Savings Report
Discover how to save time and money with the right fire sprinkler system.
While we all enjoy a breath of ocean breeze, the salt air in coastal climates is corrosive to metal – including steel pipes that make up a fire sprinkler system. That's why corrosion-resistant BlazeMaster® Fire Protection Systems is an obvious choice for coastal buildings; Blazemaster systems can be used to protect all light hazard structures from hotels and condos, to offices and hospitals, to piers and docks, BlazeMaster CPVC eliminates corrosion concerns.
BlazeMaster vs. Steel | Commercial | Installation | Residential
When planning to install a fire sprinkler system in an existing building, key factors to consider include the cost of labor and materials, speed of implementation, potential disruptions for occupants, long-term durability and more. BlazeMaster® Fire Protection Systems provides clear advantages across the board that make it the best option for retrofits.
An online search for the word sustainability reveals this initial definition: "the ability to be maintained at a certain rate or level."
As you plan a fire sprinkler system project, choosing the right materials is a critical early step as the products you choose can have a major impact on the initial cost, the longer-term maintenance costs, and the overall performance and dependability of the system.
There is no playbook for manufacturing in a 100-year pandemic, but in the midst of a crisis, game plans come together in a hurry. The team producing Lubrizol CPVC compounds in Louisville, Kentucky, has found that when people pull together, rely on their value system in decision making, and know they can depend on each other, it is possible to rise to the most unforeseen challenges.
BlazeMaster vs. Steel | Commercial
When designing fire protection systems for docks and marinas, it's a logical choice to specify BlazeMaster® CPVC primarily due to its corrosion resistance. However, there is some misunderstanding in the market that these types of facilities are always considered "ordinary hazard" under NFPA 13, which means steel pipe must be used. In fact, fire officials have flexibility to classify these facilities as light hazard based on a variety of factors.
Until BlazeMaster CPVC® fire protection systems were introduced in 1984 – changing the fire sprinkler protection industry for the better – steel was the material of choice for fire sprinkler system pipe and fittings worldwide. Steel's strength and resistance to heat made it a logical choice.
Chemical compatibility continues to be a topic of significant interest in the fire protection industry. Let's take a moment to dispel common myths about chemical compatibility.