Whether part of a new system or replacing old or damaged heads, sprinkler head effectiveness and reliability often come down to proper installation. Our team of fire system experts has put together a general overview on how to properly install fire sprinkler heads with BlazeMaster® CPVC. The following steps will ensure leak-free, reliable, and properly positioned sprinkler heads. It is important to note that the following are general guidelines. BlazeMaster Fire Sprinkler Systems advises contractors review manufacturer instructions before installation.
The following is an excerpt from The Complete Guide To Solvent Cement & CPVC Fire Protection Systems. Download the full guide to discover more on what solvent cement is, how it works, the process for utilizing it in fire sprinkler applications and special considerations for successful installation.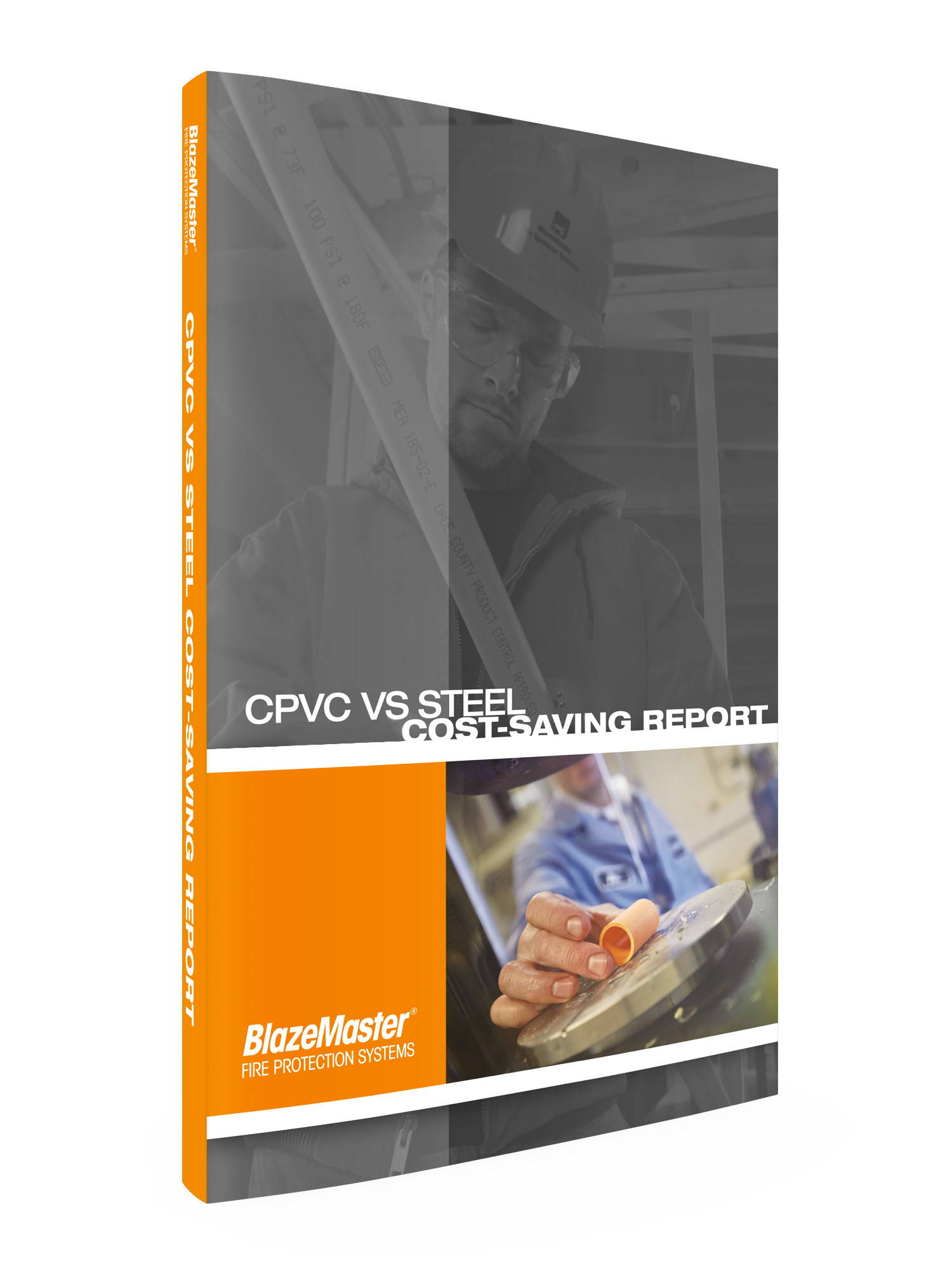 2018 Cost-Savings Report
Discover how to save time and money with the right fire sprinkler system.
Millions of homeowners across the United States have come to rely on Ron Hazelton for down-to-earth, practical advice. As the on-air Home Improvement Editor for ABC TV's Good Morning America and star of the hit syndicated show HouseCalls, Hazelton has guided do-it-yourselfers for years through the ins and outs of countless home renovation and maintenance projects.
A simple cut-and-join process is one of the many advantages of BlazeMaster® Fire Protection Systems. By following a few simple steps, installers can cut CPVC piping to the desired length in just a few minutes and ensure a clean, straight edge every time.
For years, building owners and contractors have relied on steel as the standard material for fire sprinkler systems. After all, steel is strong, durable, and stands up well to intense heat.
When Lee Miller returned to the University of Mount Union in Alliance, Ohio, for his 25th year class reunion in 1987, he was dismayed to find his old Sigma Alpha Epsilon fraternity house in shambles.
It wasn't that many years ago that codes first started mandating the practice of firestopping in various commercial applications. As a result, firestopping is still a relatively new service area offered by contractors who have chosen to expand their expertise.
After recent Tower fire tragedies, a 2017 report by the Housing and Finance Institute has built a picture of what comes next for UK housing in the wake of the disaster, and how the government can react. The report outlines three needs: to pause on the building of any new high-rise blocks, to review how existing residential tower blocks can be made safer (including sprinkler installations), and to speed up house building throughout the country, including re-housing those affected in high-rise homes. For those who might benefit from a quick summary of the report, the three key themes for action are: the need to repair, protect, and build as a response.
CPVC broke into the plumbing and industrial piping industry in the late 1950's, but it took a couple of decades to reach the highly regulated fire protection segment.
CPVC installation is quick, easy, and cost-effective. Installation of CPVC piping is done through a simple one-step joining system so no torches or heat-fusion techniques are needed. Additionally, because CPVC is lightweight, installations in hard-to-reach places are completed more easily. Whether you've used BlazeMaster® Pipe and Fittings before or if this is your first time, following best practices will ensure proper installation and a reliable, long-lasting fire sprinkler system.