Blazemaster CPVC | US Resources
Fire protection system failures at a 19-story newly-renovated Dallas hotel and a 10-story multifamily complex in Louisiana resulted in the need to temporarily relocate residents and guests, lost revenue, property damage that led to hundreds of thousands of dollars in repair bills and, in the Dallas incident, deployment of key fire department personnel onsite for extended watch for more than three months.
Installation methods for fire protection systems vary depending on the materials involved. Each material's specific joining method has a direct impact on three key factors: Cost: Installation and labor accounts for more than half of the system's total upfront cost. Time: In new builds, construction deadlines may be tight. In retrofits, the building may remain occupied during construction, which means the system must be completed as quickly as possible. Reliability: Installation mistakes can lead to premature failures and unnecessary repairs, resulting in an unreliable system in the event of a fire. For this reason, contractors and installers can benefit from being proactive in their piping material recommendations to building owners.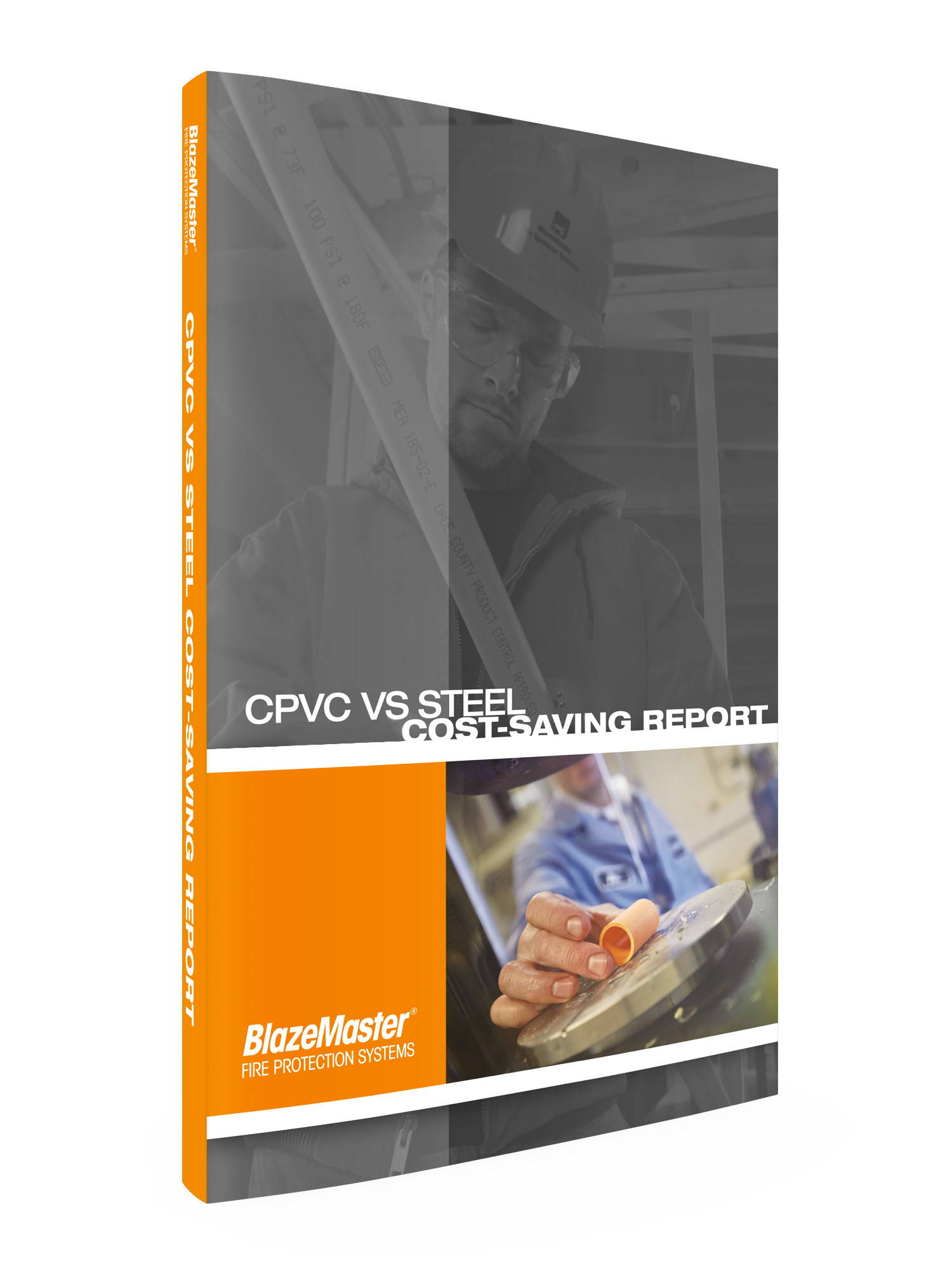 2018 Cost-Savings Report
Discover how to save time and money with the right fire sprinkler system.
Since its inception in 2012, Atlanta-based SuperHero Fire Protection has relied exclusively on BlazeMasterⓇ Fire Protection Systems to protect its customers and their residences. The full-service fire protection contractor mainly services residential properties such as single-family homes, townhomes, high-rise buildings and multi-family apartment complexes, where they face tight construction deadlines. By relying on BlazeMaster CPVC, SuperHero Fire Protection meets deadlines not possible with steel systems.
BlazeMasterⓇ Fire Protection Systems devotes time and resources to knowledge-sharing and testing to ensure products can be used safely and effectively. Chemical compatibility is often top of mind when working with CPVC. Spray foam, drywall and concrete are three common construction materials often in direct contact with BlazeMaster CPVC products, but with proper care, all three can be used without compatibility concerns.
The importance of fire sprinkler systems in building design cannot be overstated. In fact, there has never been a building fire that resulted in multiple-occupant loss of life when the structure had a properly designed, installed and maintained fire sprinkler system using certified components.
New builds can be pricey. With consumers desiring luxury amenities such as granite countertops and custom flooring, they may not want to consider spending money on a fire sprinkler system—but it should be top of mind. Unfortunately, in most cases, fire sprinkler systems are not installed in homes unless required by law, which is why there is a glaring need for more ordinances and recommendations from builders.
All light hazard fire sprinkler system applications in seismic regions must have a properly braced system in order to withstand the effects of possible earthquakes. Strict building codes and requirements exist to ensure the safety of citizens, especially those along fault lines. With lives at stake, fire sprinkler system specifiers and installers must select the proper materials and meet bracing requirements.
Cost Savings | Installation | Material Comparison
One of the distinct advantages of BlazeMaster® CPVC over steel piping is time saved and ease of installation. BlazeMaster CPVC installation can greatly reduce the number of laborers required, eliminate the high price tag of skilled welders and help keep projects on schedule and on budget. BlazeMaster CPVC also has more stable material costs compared to metallic alternatives while still offering long-term reliability.
One of the most common myths in the fire protection industry is that because CPVC is plastic, it will easily melt in a fire.
An important consideration in any building project is the cost of materials. In most instances, contractors look to the highest quality product for the lowest cost. But, what happens when a common product is no longer affordable?