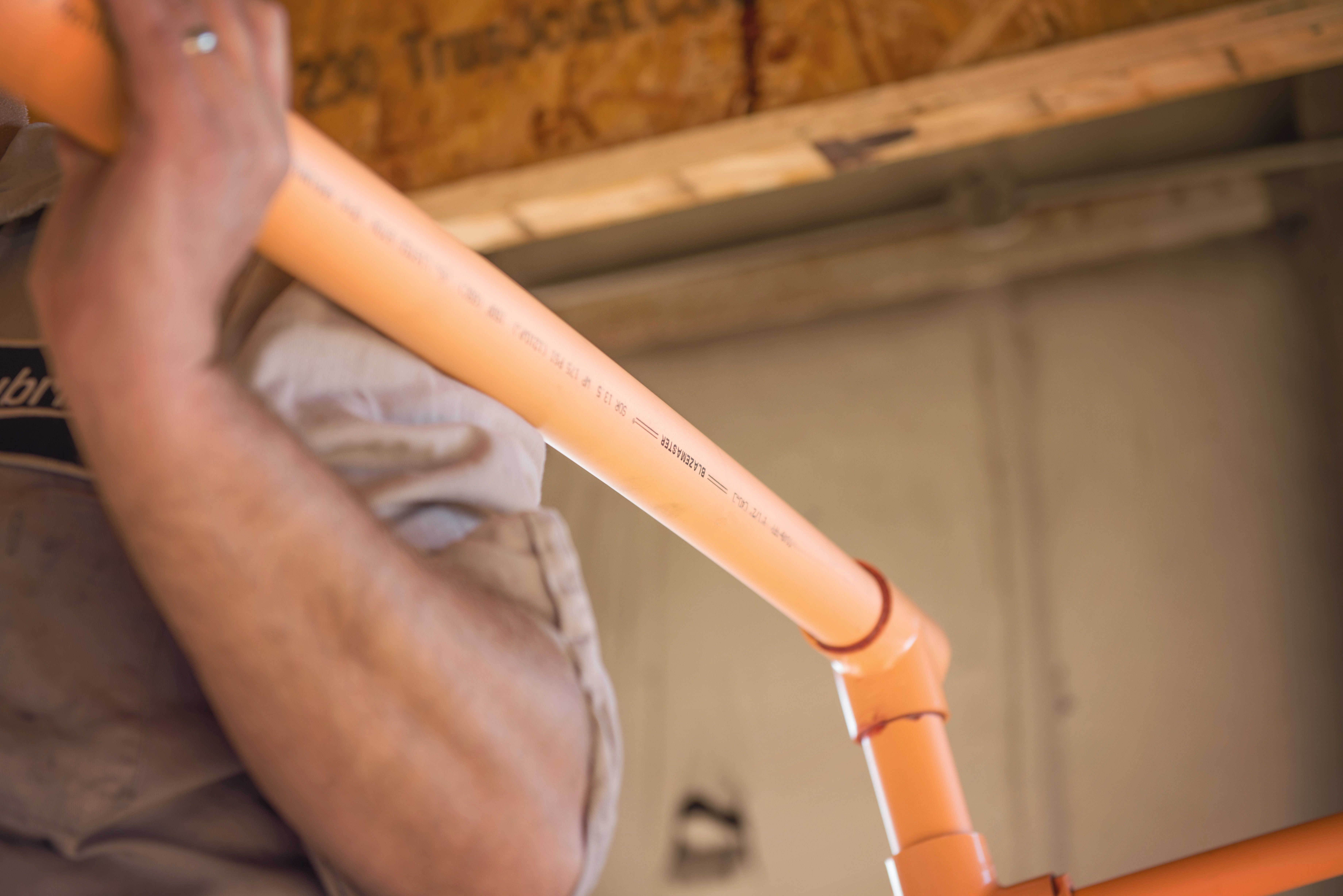 Subscribe
Busting 5 Misconceptions About CPVC Fire Protection Systems
BlazeMaster vs. Steel | BlazeMaster vs. Generic
It's a fact: BlazeMaster® CPVC is the world's most specified non-metallic fire sprinkler system pipe and fitting material. Every day since it was introduced in 1984, BlazeMaster CPVC has saved the lives of countless individuals, firefighters and other safety professionals and prevented property damage.
How? By simply doing the job it was intended to do – suppressing a fire before it is able to spread.
That's why it's puzzling that even after more than 30 years, misconceptions about CPVC fire sprinkler systems still resonate.
I'd like to put five of those myths to rest, once and for all.
Myth #1: All Orange Fire Protection CPVC Pipe and Fittings are the Same
Far from it. BlazeMaster CPVC's unique formulation allows it to outperform all other brands of CPVC fire protection pipe and fittings when the heat is on, ensuring that the fire sprinkler system suppresses a fire and protects occupants and property.
Differences in manufacturing, material science and chemical processing among CPVC brands directly translate to performance and reliability disparities. BlazeMaster CPVC not only meets standards, codes and approvals, but in some cases actually exceeds the requirements. Such is the case with burst and impact resistance testing.
Our manufacturing partners have proven track records of producing the highest quality materials and must comply with our Quality Assurance Program to ensure that each component is manufactured with consistent quality.
This is important because the quality of the CPVC piping in a fire sprinkler system can make all the difference in the event of an emergency.
In short, not all CPVC is the same. It is important to always choose "the right orange."
Myth #2: The FBCTM System Compatible Program Covers ALL Brands of CPVC Fire Sprinkler Pipe and Fittings
Need another reason to "choose the right orange?" Lubrizol Advanced Materials' FBC™ System Compatible Program is the oldest and most trusted chemical compatibility program in the industry.
However, for fire protection, this program covers BlazeMaster CPVC pipe and fittings only. It does not apply to any other brand of CPVC fire sprinkler pipe and fittings.
Why? Different resin formulations among CPVC manufacturers mean that ancillary construction products may perform differently when these products come in contact with CPVC pipe and fittings.
Each listed product is voluntarily submitted by its manufacturer for formulation screening and testing at a third-party laboratory. Once a product receives a certification by the FBC™ System Compatible Program, it means it has undergone rigorous compatibility testing with Lubrizol CPVC products only.
So why is all of this important? Ensuring that CPVC pipe and fittings are compatible with ancillary construction and/or maintenance products can make all the difference between system reliability and failure. At the very least, failures will be costly to the building owner, installer, manufacturer or a combination thereof. Examples of this include failures at a newly-renovated 19-story Dallas hotel and a 10-story multifamily complex in Louisiana, both outfitted by a competitor brand of BlazeMaster CPVC.
Myth #3: The Total Installed Cost of BlazeMaster CPVC Systems is More Than That of Steel Systems
BlazeMaster CPVC outperforms steel in material, labor and life cycle/maintenance costs.
Material costs can make up more than 60% of the total cost of a fire sprinkler system. BlazeMaster CPVC pipe and fittings are less expensive than steel, and smaller diameter pipe can typically be used to achieve the same flow rates.
BlazeMaster CPVC installs faster and easier than steel pipe systems. BlazeMaster CPVC is installed with a quick, simple one-step joining method that does not require torches or heat-fusion installation. It requires no pre-fabrication, saving labor and reducing the need for expensive joining equipment like with steel. We're always there for the installer/contractor with best-in-class online training, or in-person training in conjunction with one of our manufacturing partners.
For the building owner, BlazeMaster CPVC offers lower life cycle costs as well as peace of mind. With BlazeMaster CPVC, you'll never have to worry about the issues you can face with steel pipe systems, such as corrosion or scaling that not only affect hydraulics, or pinholing that can cause system leaks and failure. A BlazeMaster CPVC fire protection system also provides natural immunity to microbiologically influenced corrosion (MIC).
Myth #4: BlazeMaster CPVC Can Only be Used in Residential Applications
While BlazeMaster CPVC is most commonly used in single and multifamily homes, it has been used in commercial buildings for more than 30 years. BlazeMaster CPVC can be used in any light hazard occupancies as defined by NFPA 13, such as office buildings, schools, care homes, hospitals, theaters and places of worship.
Its reliable performance in these settings helps increase occupant safety while minimizing a fire's potential to spread.
Want proof? Read how BlazeMaster CPVC was chosen to:
Want to know more? We'd love to share our success stories with you – just ask!
Myth #5: BlazeMaster CPVC Is Not Environmentally Friendly
A 2011 ISO-compliant peer-reviewed life cycle assessment (LCA) determined that BlazeMaster CPVC has approximately half the climate impact of steel. In fact, BlazeMaster CPVC outperformed steel in 12 of the 13 environmental categories tested, including climate change impact, energy consumption and water depletion.
What is more, even though CPVC is recyclable, the study assumed no CPVC recycling while assuming a 100% recycling rate for steel.
If you are a specifier, architect, installer, AHJ or building owner and would like to know more about the benefits of CPVC, we're at your service! Schedule a free consultation with our team of BlazeMaster CPVC consultants today.