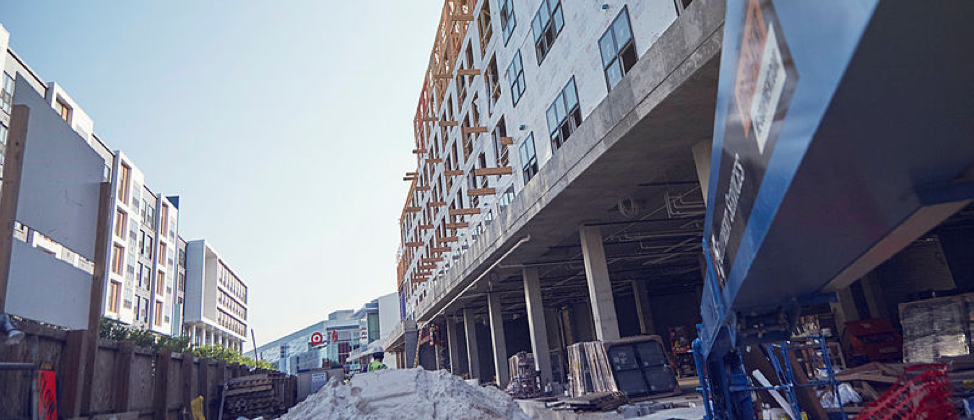 Subscribe
BlazeMaster® CPVC Fire Sprinkler System Identified as Best Option to Meet Tight Deadline
The long-standing real estate boom in Atlanta got an added boost with the completion of Phase I of Atlantic Station. The $2 billion development off I-85 in Atlanta is credited as being the community that launched the live-work-play concept that is quickly gaining popularity in other parts of the country.
The difference with the Atlantic Station project is size. The 138-acre (558,466 square-meter) development has been referred to as a mini-city and represents the largest construction site in the Southeast. When completed over the next several years, Atlantic Station will include more than a dozen office buildings, a convention hotel, more than 1,000 residences and in excess of one million square feet of retail space (in addition to the second largest parking deck in the country).
Demand for Atlantic Station Housing
Throughout the country there is a trend of people wanting to move back into vibrant urban centers, and Atlanta is well positioned to be in the forefront of that trend. Lane Co., the developer of many of the housing units at Atlantic Station, is reaping the rewards of that trend.
Demand for its first residential condo unit built over shops in the heart of Atlantic Station's retail district was so overwhelming that Lane staged a lottery to qualify residents. Condo prices start in the $300,000's and rise above $600,000 for the 1,800-square-foot (167 square-meter) units. It is estimated that more than 95% of the office space is also leased.
Need for Fast Paced Construction
With this type of unprecedented demand, construction schedules have been pushed to the limit to accommodate eager buyers and leverage the current popularity. Construction products and materials for the massive project are being chosen largely on their ability to maintain a fast construction pace.
In case of the fire sprinkler systems, BlazeMaster® CPVC pipe and fittings was the obvious choice. "Whenever, we're facing a tight deadline, which is most of the time in this booming real estate market, we recommend a BlazeMaster fire sprinkler system," said Milton Crosswy, president of Affordable Fire Protection, the fire sprinkler contractor chosen by Lane Co. for the residential portion of the Atlantic Station project.
BlazeMaster CPVC Outperforms Steel
"The Lane housing units have wood construction, which made the labor savings with the BlazeMaster CPVC system even greater than it would have been using a steel frame," said Crosswy. "The inconsistencies of a wood frame necessitate the use of CPVC. We wouldn't attempt wood construction on a tight schedule with a metallic fire sprinkler system. It just doesn't make sense."
BlazeMaster CPVC is a proven material that offers benefits steel can't match:
Steel prices are rapidly rising, costing about $1.30/ft (1£/m) for 1" (25mm) pipe compared to $0.56 - $0.60 (.53£ - .46£) for BlazeMaster CPVC.
BlazeMaster CPVC pipe and fittings are faster and easier to install because they are joined with a solvent cement bonding system.
No soldering torches or heavy equipment are required for installation.
Labor savings can be as high as 50%, depending on the size and nature of the project.
Since the CPVC pipe weighs less (approximately one-sixth the weight of metal), it is also easier to maneuver on the job site.
Last-minute sizing changes and adjustments can also be accommodated quickly and easily right on the job site with a BlazeMaster CPVC system.
Pre-fabrication is not necessary.
Selecting BlazeMaster CPVC
"This is one of the largest projects we've handled," said Crosswy of the Atlantic Station development. "We're installing more than 16,000 sprinkler heads and that's just in Phase I. We need a product that can keep up with us and the schedule."
Given the high profile nature of the project, issues such as reliability and safety were equally critical at Atlantic Station. BlazeMaster CPVC was the best option for a wide array of reasons:
The BlazeMaster CPVC system has more than a 20-year track record in the field.
Since the pipe and fittings are completely immune to the effects of microbiologically influenced corrosion (MIC), the system offers a longer, low-maintenance service life.
Its superior flow characteristics mean that the pipe can be downsized without compromising water flow.
BlazeMaster pipe and fittings are the only piping system that is pressure rated by the Plastics Pipe Institute (PPI). This gives even more credibility to long standing quality that BlazeMaster pipe and fittings bring to the market.
"We have worked with Affordable in the past and rely on their expertise in selecting the system that best fits our needs," said Paul Hutchinson, vice president of construction at Lane Co. "I can't remember a time when either Affordable or BlazeMaster CPVC pipe and fittings didn't meet our expectations, even with the tightest deadlines. In the case of Atlantic Station, demand has certainly out-paced what we ever thought. We can hardly build the units fast enough. I can't imagine having to wait on the fire sprinkler system being installed and, luckily, we didn't have to."
Atlantic Station Sees Huge Success With BlazeMaster CPVC
It was master developer Jim Jacoby who originally had the vision to transform the area from an idled industrial site to a vibrant retail and housing center. In April 2002 the land deal closed for the first 600 apartments, with construction beginning 90 days later in July of that same year. When completed, the new project is expected to be home to nearly 10,000 people and employ more than 30,000.
"We've never experienced a project like this one," said Hutchinson. "The demands are tremendous. There is no time for delays. Fortunately we haven't had any as a result of the fire sprinkler system installation. The BlazeMaster CPVC system has allowed us to accomplish what would have otherwise been impossible."
To learn more about how a BlazeMaster CPVC fire sprinkler system is ideal for residential and commercial building projects, contact our team of piping system consultants.