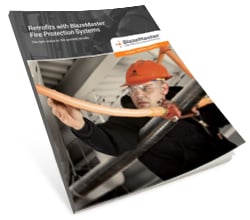 Compared to steel pipe, BlazeMaster® pipe and fitting systems provide clear advantages that make them the best option for fire sprinkler retrofits in a wide range of light hazard commercial and residential applications. Download our retrofit guide to learn how BlazeMaster fire sprinkler systems can:
Save money on material and labor costs. Cost savings can add up to as much as 30% depending on the scope of the project.
Streamline installation. The one-step solvent cement welding process can be completed with basic hand tools, eliminating noisy, expensive equipment needed for steel pipe.
Reduce disruption for building tenants during retrofits. The clean, quiet and fast installation process enables contractors to meet tight deadlines with minimal noise and inconvenience for occupants.
Lower long-term maintenance costs. Unlike steel pipe, BlazeMaster pipe and fittings systems are inherently resistant to corrosion and scaling to limit the need for costly repairs.
Deliver superior sustainability metrics. Support green building goals by using BlazeMaster fire sprinkler systems, which outperformed steel pipe on 12 of 13 categories on an ISO-compliant environmental study.
You'll also learn how BlazeMaster pipe and fitting systems are engineered for performance. When directly exposed to a flame, BlazeMaster fire sprinkler systems maintain their structure and internal pressure to ensure water is delivered to stop a fire before it spreads.
Our retrofit guide also offers insightful case studies about how BlazeMaster fire sprinkler systems have been part of successful retrofits in a wide range of projects including an office complex, a large school district, a high-rise apartment building and a hospital.
Please complete the form to download the guide.