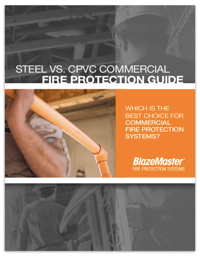 Material engineering capabilities have come a long way since steel established itself as the norm for fire protection systems. Specifically, chlorinated polyvinyl chloride (CPVC) has changed what you should expect of a sprinkler pipe and fitting material (metal or plastic).

But is CPVC a choice you can count on for a fire protection system? The "Steel vs. CPVC Commercial Fire Protection Guide" outlines six reasons why CPVC is not only a safe option, but can outperform steel fire sprinkler systems in key areas.

Specifically, this comparison guide addresses:
Speed and ease of installation.
Potential cost savings.
Corrosion resistance and hydraulic performance.
Environmentally-friendly benefits.
Download this FREE guide today.