Whether you are constructing a new school or retrofitting an existing facility, the choice of piping materials is key to success in protecting classrooms, offices and other structures. Learn how BlazeMaster® CPVC: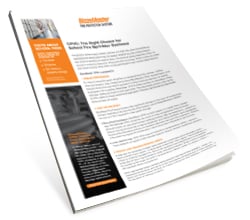 Ensures performance to protect people and property
Saves time and money
Offers lower maintenance costs
Limits disruption during retrofits
Supports green building practices
Complete the form to download the guide.
About BlazeMaster Fire Protection Systems
The most specified nonmetallic fire sprinkler systems in the world, BlazeMaster Fire Protection Systems offers easy installation, inherent corrosion resistance and excellent flame and smoke characteristics. Backed by Lubrizol Corporation's nearly 60 years of CPVC experience, BlazeMaster material delivers the security expected of any fire protection system.