Download the FREE "Retrofit Fire Protection Guide" today.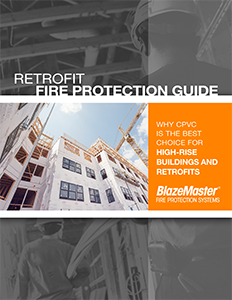 Is it time to evaluate (or reevaluate) the fire sprinkler systems in your high-rise building or retrofit project?
How do you choose between a steel fire sprinkler system, polypropylene (PPR), and chlorinated polyvinyl chloride (CPVC)?
CPVC fire sprinkler systems are a reliable choice for residential fire sprinkler systems, and our free "Retrofit Fire Protection Guide" shows why BlazeMaster® Fire Protection Systems have been the trusted name in non-metallic fire protection for more than 30 years.
In this guide, we'll reveal:
The

distinct advantages CPVC has over steel,

like its light weight and corrosion resistance.

A description of

where CPVC outperforms PPR,

including easier installation and cost savings.

How BlazeMaster CPVC pipes and fittings are specially engineered to

not sustain a flame.
Myths about CPVC

and how the material's performance proves them wrong.

A

case study

on how a BlazeMaster CPVC fire sprinkler system provided reliability and peace of mind to residential building tenants.
Download this FREE guide today.