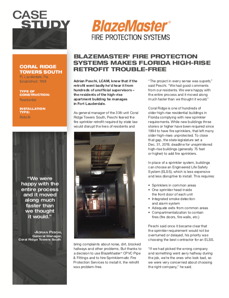 Coral Ridge is one of hundreds of older high-rise residential buildings in Florida complying with new sprinkler requirements.
While new buildings three stories or higher have been required since 1994 to have fire sprinklers, that left many older high-rises unprotected.
To close that gap, the state legislature set a Dec. 31, 2019, deadline for unsprinklered high-rise buildings (generally 75 feet or higher) to add fire sprinklers.
Download the full case study to learn why BlazeMaster® Fire Protection Systems are ideal for retrofits and how we helped Coral Ridge make CPVC installation trouble-free.
Download this FREE case study today.