Six Common Misconceptions About CPVC Fire Protection Systems
BlazeMaster® CPVC fire protection systems offer proven advantages over traditional steel pipe such as cost-effective installation and long-term durability. Yet misconceptions about CPVC remain common in the fire protection industry.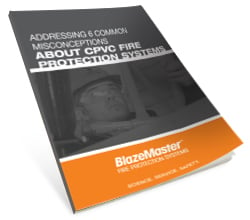 Download this guide to learn how to address myths about CPVC on topics such as:
Flame resistance
BlazeMaster vs. the competition
Cost
Environmental impact
Commercial

and

residential applications

E

ase of installation
Download the guide by filling out the form on this page.
---
About BlazeMaster® Fire Protection Systems
The most specified nonmetallic fire sprinkler systems in the world, BlazeMaster Fire Protection Systems offers easy installation, inherent corrosion resistance and excellent flame and smoke characteristics. Backed by Lubrizol Corporation's nearly 60 years of CPVC experience, BlazeMaster material delivers the security expected of any fire protection system.