Subscribe
Why BlazeMaster® CPVC for Fire Protection Systems
For 30 years, BlazeMaster® Fire Protection Systems have been specified for thousands of residential and commercial buildings around the world. But why are building owners and contractors choosing a thermoplastic fire sprinkler system over steel and other non-metallic materials?
To answer that question, we need to briefly explain BlazeMaster CPVC's decades of innovation, validation and proven performance.
A New Type of Thermoplastic
In 1959 Lubrizol (which was then BFGoodrich) commercialized a new plastic, chlorinated polyvinyl chloride (CPVC). The brand was called Hi-Temp because of its unique ability to withstand extreme heat and pressure, unlike other plastic materials.
In addition, Lubrizol's CPVC produced less smoke than other plastics and had a very high limiting oxygen index (LOI) of 60, requiring 60% oxygen to sustain a flame.
While originally introduced to the market as a potable plumbing solution, Michelle Knight, an R&D scientist at Lubrizol for nearly 30 years, recalls how the early success of CPVC made them think they could successfully expand into the fire sprinkler market. "We knew we had a strong, capable material, and we knew we could do more with it."
So the product engineers at Lubrizol began to refine the material for fire sprinkler systems ─ launching BlazeMaster Fire Protection Systems in 1984.
Obtaining Third Party Approval and Listings
Because BlazeMaster Fire Protection Systems was the first to introduce a plastic material to the fire sprinkler market, many of the tests that exist today to ensure the performance of thermoplastic systems weren't in place.
Our product and engineering team worked closely with Underwriters Laboratories to develop a series of tests that effectively gauge a plastic piping materials ability to reliably work when exposed to extreme heat and flame. The current UL 1821 fire test was developed from our work with UL.
Today, to pass the UL 1821 standard, a heptane flame is positioned under a pipe joint and fitting. The fire reaches 1,600°F (871°C) and the pipe must stand up to direct contact with the fire plume at 700-900°F (371-482°C) for a total of 10 minutes.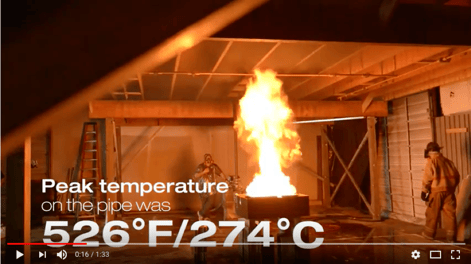 BlazeMaster CPVC passed this and multiple other tests to earn our UL listing.
As the world's leading advocate of fire prevention, the National Fire Protection Association (NFPA) is an international organization with a mission to reduce the burden of fire and other hazards on the quality of life.
BlazeMaster CPVC fire sprinkler systems are listed for all light hazard occupancies, as defined by NFPA 13, low-rise residential occupancies, as defined in NFPA 13R, and one-and-two-family dwellings, as defined by NFPA 13D.
BlazeMaster Fire Protection Systems have long been an approved solution for residential and commercial buildings and retrofits around the world and meet standards from these major international agencies:
National Fire Protection Association (NFPA)
ASTM International
Factory Mutual (FM)
NSF International
Underwriters Laboratories (UL)
Water Regulations Advisory Scheme (WRAS)
Loss Prevention Certification Board (LPCB)
British Standards (BSi)
Finding its Market Fit
It has taken BlazeMaster CPVC time and effort to get it to where it is today. When the material first came to market in 1984, it overcame initial negative perceptions to stake its claim in the fire protection industry, proving it was a more reliable solution to steel.
Industry-leading research, development and testing over the course of the 1980s allowed it to demonstrate it could provide superior smoke and flame characteristics, sustain combustion and resist corrosion to the chlorine utilized to treat water supplies.
It was near the end of the 1990s where the price of steel piping began to surpass that of CPVC. That, combined with the labor savings through its simplified installation process, BlazeMaster was and still is able to offer a total, cost effective value that steel just cannot match.
Heading into the 2000s, it developed the first and only pressure-rated fittings compound and became the first UL Listed CPVC system for use in exposed residential basement applications. It also introduced the FBC™ System Compatible Program, allowing installers to quickly and easily reference chemical compatibility of ancillary products with BlazeMaster CPVC pipe and fittings.
It is one major innovation after another that has allowed BlazeMaster CPVC to be relied on by thousands of light hazard construction projects across the globe such as:
Single-family homes
Multi-family homes
Commercial and residential properties
High-rises
Retrofits
The Most Specified Non-Metallic Fire Sprinkler System
BlazeMaster CPVC Fire Protection Systems is the most specified non-metallic fire sprinkler system in the world.
Readily available through a number of partner manufacturers, choosing a BlazeMaster CPVC system means reliable, problem-free fire protection for a lifetime. It also means having access to unrivaled and expert technical support and on-site and free online installation training.
To learn more about BlazeMaster CPVC Fire Protection Systems or for questions, contact our team of piping systems consultants.