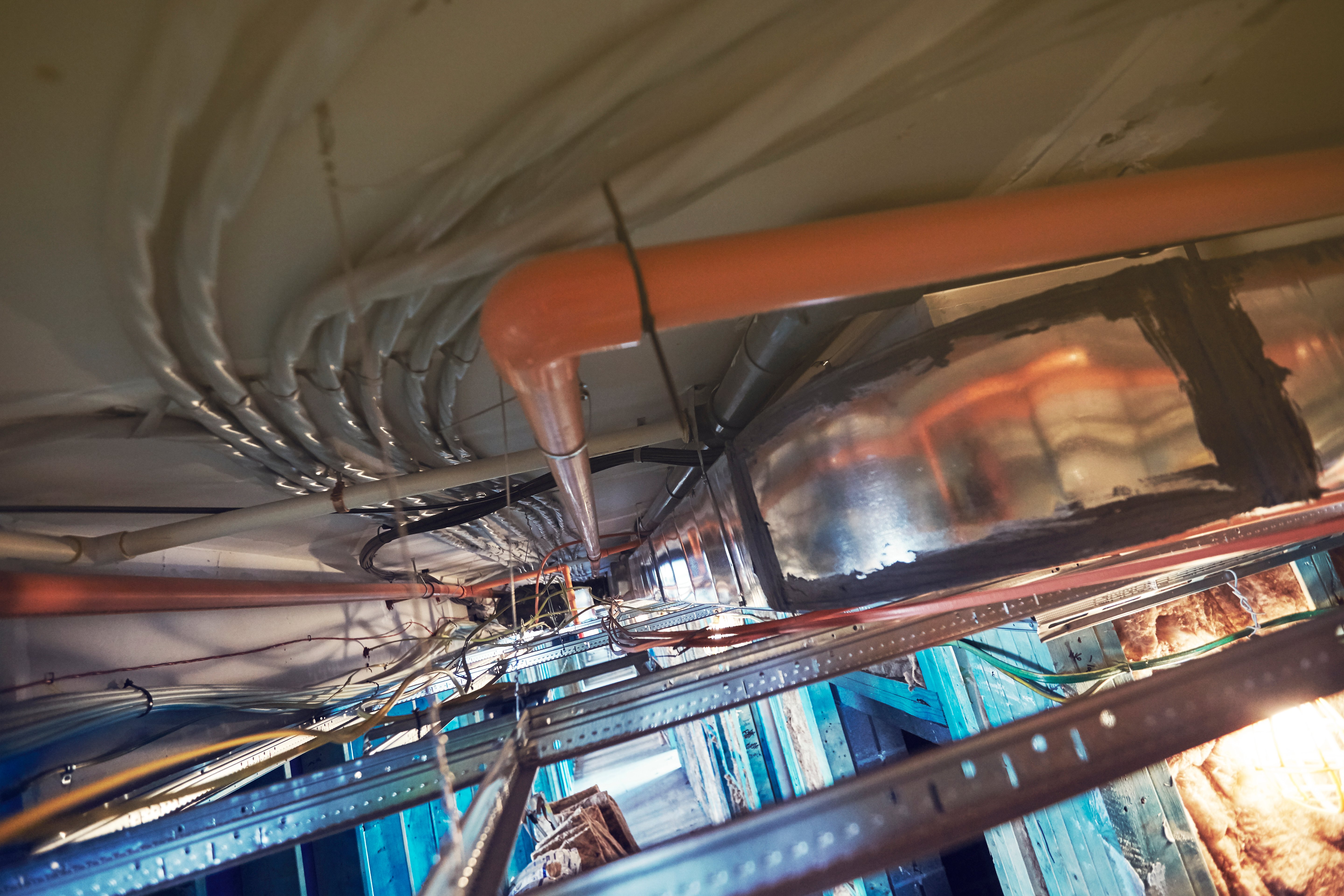 Subscribe
Not All Wiring Systems Are the Same – Learn What Is Compatible with BlazeMaster® CPVC
In the course of installing a CPVC fire sprinkler system in virtually any setting, the potential for the pipe and fittings to come into contact with flexible wire and cable presents itself. While BlazeMaster® CPVC realizes that this may be inevitable, we strongly recommend that fire protection system installers do their best to work with other contractors and review jobsite notification documents from piping manufacturers to avoid such contact if at all possible. If building design requires that the piping and wiring/cabling be installed in tight spaces where contact is unavoidable, consider using a compatible material as a buffer between the two.
The key is knowing the chemical composition of the materials that may come in contact with the piping and fittings. Typically, wire that carries electricity is jacketed with compatible compounds such as nylon or polyolefins.
Wire that carries signal, however, is typically jacketed with plasticized vinyl to protect the signal quality from outside noise and for fire safety in plenums. Just as with caulks and firestops, the plasticizer may cause softening or cracking of CPVC, depending on factors such as temperatures or stress.
Chemical Compatibility is a Question
There are no approved flexible wiring or cabling products included in the Lubrizol Advanced Materials FBCTM System Compatible Program. There are so many brands of such products and their markets are so large that no manufacturer has taken the step of submitting such products for testing within the program.
We do address the issue of flexible wiring and cable on the program's Other Compatibility Topics page, and make the following recommendations that should be strongly considered.
Flexible Wiring and Cable: Nylon or polyolefin jacketing used on many types of standard electricity-carrying wire is not incompatible with CPVC. Plasticized vinyl jacketing, which is often used on communications or signal-carrying wire is often incompatible with CPVC. Contact with vinyl-jacketed wires should be avoided.
Section 334.30 of the National Electric Code (2002 Edition) requires wire and cable to be secured by staples, cable ties, straps or hangers. Air ducts, pipes and ceiling grid are not acceptable supports for wire and cable.
Rubber and Flexible Materials Containing Plasticizers: CPVC is not compatible with some rubber and flexible plastic materials containing certain types of plasticizers. Incompatible plasticizers include, but are not limited to, phthalates, adipates, trimellitates and dibenzoates. Compatibility should be confirmed before selecting rubber or flexible vinyl materials for direct contact with CPVC. Examples of materials which may contain incompatible plasticizers include, but are not limited to, caulks, rubber or elastomeric hanger padding, vinyl dip coating on metal parts, rubber gaskets, electrical wire jacketing, electrical tape, and flexible hoses or tubes.
NFPA 70 Recommendations
The National Electrical Code's NFPA 70, section 334.30 states: "Nonmetallic-sheathed cable shall be supported and secured by staples, cable ties, straps, hangers or similar fittings designed and installed so as not to damage the cable."
This applies to all types of wire and cable installed according to the National Electical Code. It means that piping is NEVER an acceptable means of supporting wire and cable.
We make it easy for you to receive fast, reliable installation advice and support should you ever face a challenge regarding BlazeMaster CPVC and flexible wiring and cable. Tech support is never more than a click away.