Subscribe
Navigating Chemical Compatibility: Take the Right Path to the Right Ancillary Products
CPVC pipe and fittings are used every day in residential, commercial and multifamily fire protection systems. One brand – BlazeMaster® CPVC – has performed well for years. While there are many reasons for this, I'd like to focus on one – the FBCTM System Compatible Program – the oldest and most trusted chemical compatibility program in the industry. It's one reason contractors, designers and engineers can be more assured of a high-quality installation. The program helps you avoid costly system failures such as a 19-story newly-renovated Dallas hotel and a 10-story multifamily complex in Louisiana recently experienced by a competitive brand.
The difference: BlazeMaster CPVC prides itself on leading the industry in its commitment to chemical compatibility for ancillary products. We take a scientific approach that has proven to be the gold standard in our industry, eliminating guesswork at every turn.
BlazeMaster CPVC makes it easy and simple for contractors, building owners, specifiers, AHJs and local fire officials to know for certain which brands and products are approved for planned interaction. Lubrizol's FBCTM System Compatible Program covers all its CPVC pipe and fitting products – BlazeMaster, FlowGuard®, Corzan® and TempRite® Technology brands. It is the oldest and most comprehensive such platform in the industry. It was established in 2002, well before the 2013 NFPA code that codified a requirement for confirmation of compatibility for several categories of products. That's when most other competitive CPVC manufacturers initiated their program, and they're still playing catch-up.
The program provides a platform for manufacturers of ancillary products from 13 categories to voluntarily submit those products for third-party certification testing and auditing developed by Lubrizol. It provides assurances that approved products are fully compatible and have been tested fairly and properly. No formulation changes are allowed to the tested and approved products; if formulation changes occur, re-evaluation must take place. Products are re-certified on an annual basis. Manufacturing facilities and processes are also audited. Currently, 50 manufacturers have certified products through the FBC System Compatible Program in the United States, Canada, Mexico, 25 European countries, the United Arab Emirates, India and China.
It's a rigorous program, and products that have been certified are given the right to display the FBC System Compatible mark on their labels and/or products.
A Guide to Incompatible Products, Too
The FBC System Compatible Program goes well beyond providing a guide of approved products for use with BlazeMaster CPVC. It's unique to the industry in that it provides a regularly updated guide of incompatible products – those that should never be used in conjunction with BlazeMaster pipe and fittings. Not only that, the program provides the rationale behind each incompatible listing with a compatibility hazard that describes why the ancillary product is inappropriate for use.
This eliminates any potential speculation, helping safeguard against system failures due to incompatibility. We know of no other competitive product that provides such a guide.
Need Reassurance? Let's Talk About It
There may be times when more information is needed. The FBC System Compatible Program provides an exclusive Other Compatibility Topics forum to accomplish that. Questions or issues surrounding planned or incidental interactions populate this platform and address the construction products most common to the application of BlazeMaster Fire Protection Systems materials. Topics such as gap-filling, flexible wiring and cable, hangers and straps, and many more are covered. You can rely on the information and guidance provided as it has been fully vetted by engineering and legal experts in terms of its compatibility and interaction with BlazeMaster CPVC.
If you want more help, the opportunity to ask a compatibility question is linked to on the same page.
In addition, a regularly published change notification page indicates products that have been added to the compatibility list as well as those that have voluntarily dropped. Apps are available for iPhone and Android devices to connect directly to the FBC System Compatible Program website and search for chemically compatible products.
The FBC System Compatible Program is one of a kind, but please understand that the information brought forth is germane only to the BlazeMaster CPVC brand when it comes to fire sprinkler protection systems. It is not meant to cover chemical compatibility with any other CPVC fire sprinkler brands – although we are aware that other brands refer their customers to the FBC System Compatible Program. We don't recommend that as every manufacturer's product formula is different. In a way, they're doing their customers a disservice.
Click here to access our Tools of the Trade comparison chart to learn how our program stacks up against Spears'.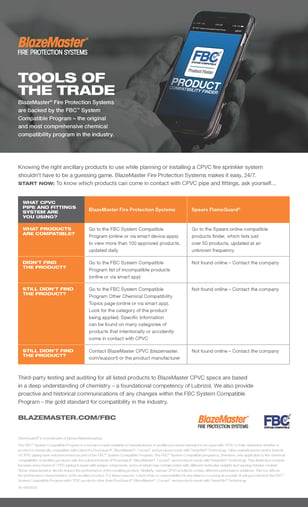 Interested in additional resources? Download our Distinguish the Myths of CPVC Piping from the Facts slide deck.