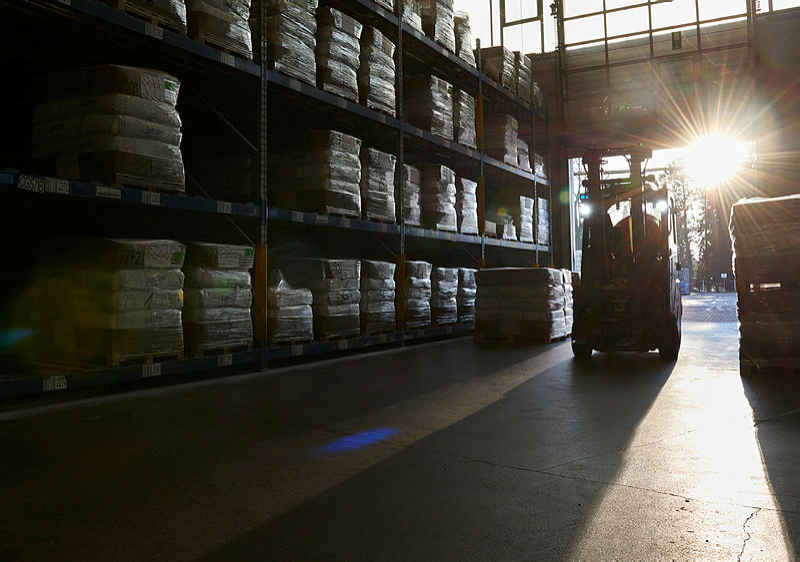 Subscribe
Manufacturing In A Pandemic Is A Collaboration
There is no playbook for manufacturing in a 100-year pandemic, but in the midst of a crisis, game plans come together in a hurry. The team producing Lubrizol CPVC compounds in Louisville, Kentucky, has found that when people pull together, rely on their value system in decision making, and know they can depend on each other, it is possible to rise to the most unforeseen challenges.
At the end of the first month of the COVID-19 crisis, the Lubrizol Advanced Materials CPVC plant in Louisville, Kentucky, is a case in point. Guided by corporate protocols, the two women who lead the departments responsible for producing the TempRite CPVC pellets and powders used not only in BlazeMaster® CPVC, but also Corzan® CPVC and FlowGuard Gold® CPVC, marshaled their resources to continue manufacturing and meet customer needs while keeping their commitment to safety at the forefront of everything they do.
Lubrizol has a long history of operating extremely safe and efficient facilities that place a high value on employee well-being. When the pandemic protocols were activated in March, Kalli Stull and Lynn Huff, who manage the CPVC resin and compounding departments, respectively, went into high gear to support plant operations while moving much of the workforce to their homes, even as orders saw an uptick in the early days and efforts were taken to ensure stock levels were more than adequate for the near future.
With heightened attention to disinfection and social distancing guidelines in each department, hourly production employees have continued to work their normal shifts, supported in the plant by a single team. The team is comprised of an area leader, area specialist, process engineer, maintenance manager and logistics staffer on three-week rotations. Thanks to the robust computer systems and software at hand, plant personnel are supported from home with functions ranging from monitoring radio communications, retrieving process and lab data, and troubleshooting.
Affirming our commitment to deliver essential reliability to our valued customers, keeping our promises of quality, safety and on-time delivery is more important to Lubrizol now than it has ever been. To ensure that business could proceed smoothly during the pandemic, and that customer and employee needs were being met, Stull and Huff immediately initiated the following five initiatives:
Providing for employee safety and well-being
Controlling how people interact face to face
Stepping up to assist with tasks beyond normal job responsibilities
Keeping environmental commitments
Leveraging all computer resources at hand
Providing for employee safety and well-being
Deep cleaning regimens became top priority. "We wanted our operators to feel at ease coming in and doing their job," said Huff. "That meant we had to do our part by implementing extra efforts for a cleaner-than-usual plant." Twice-weekly deep disinfection of high-touch, high-traffic areas by a specialized crew and providing ample cleaning supplies around the facility for shift changes became standard operating procedure. From offices to break rooms, from yard dogs to forklifts, even the walls of the cargo elevators – nothing is off limits for cleanliness.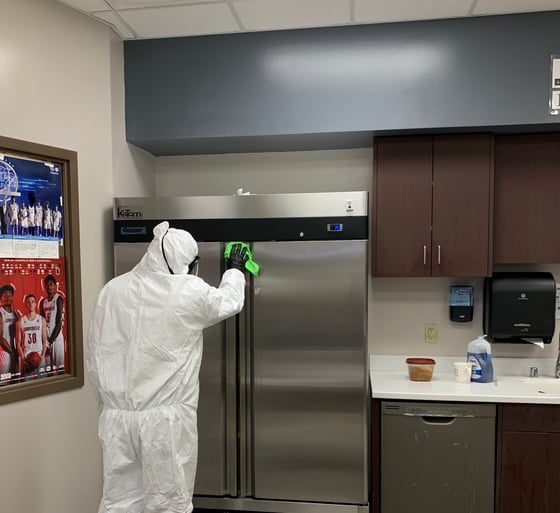 Deep cleaning regimens are a top priority to help ensure employee safety
Controlling how people interact with one another face to face
Precautions instituted include thoughtful approaches to shift changes in order to preserve six-foot distances, and temperature checks of plant employees, truck drivers and any contractors needed for installation or repair work directly affecting the ability to manufacture. Maintenance activities are limited to whatever is deemed essential to keep the plant running. Deliveries occur outside of the gate.
Stepping up to assist with tasks beyond normal job responsibilities
Being cross-trained has helped employees be of as much assistance to others as possible, as does the realization many have had of just how much visibility into production operations is possible from remote locations. "Other than machine operators, everyone can do someone else's job within the resin or compounding department," Stull said. "So whether they are in the plant or at home, people are stepping up to ask what they can do to help and support others."
Keeping environmental commitments
Always dedicated to being a good environmental steward and neighbor, operating within the confines of primary containment measures remains a daily concern for the Louisville operations.
Leveraging all computer resources at hand
"Lubrizol's computer systems give us so much visibility into the plant and our online resources provide us with lots of training and tools; people who hadn't used these systems much in the past are very thankful for them now," said Huff.
Stull and Huff are convinced that keeping the best interests of all employees at heart while maintaining laser focus on operational excellence are not mutually exclusive undertakings, especially with open communication. "People were nervous at first about making statements that could be overridden an hour later because the situation changed so fast," said Stull. "But we have found that being forthcoming with the information that we know at the time is important and appreciated.
"At the end of the day, we're there to make the best CPVC in the world, and everyone is doing their best to deliver despite the challenges," she said. "But we also must make sure that our people don't feel they're hanging out there by themselves. Checking in with them on a personal level helps them better balance work and family obligations at this difficult time."
Specialized CPVC Technology Support Remains On Call
Just as the plant in Louisville has put a collaborative team in place to keep production moving to support the essential work of Lubrizol customers, our engineering and construction support teams are working from home to assist customers and end-users in keeping their facilities running smoothly. Whether it be for BlazeMaster, Corzan or FlowGuard Gold, we are here to support the engineering and construction sectors through this challenging time in our history. Our subject matter experts are available to assist with design questions, application assessments, troubleshooting, and installation guidance. If you need assistance, we have content provided on our website at BlazeMaster.com as well as a link to request additional support.
We realize that it is a difficult time for so many. Together we will get through this.