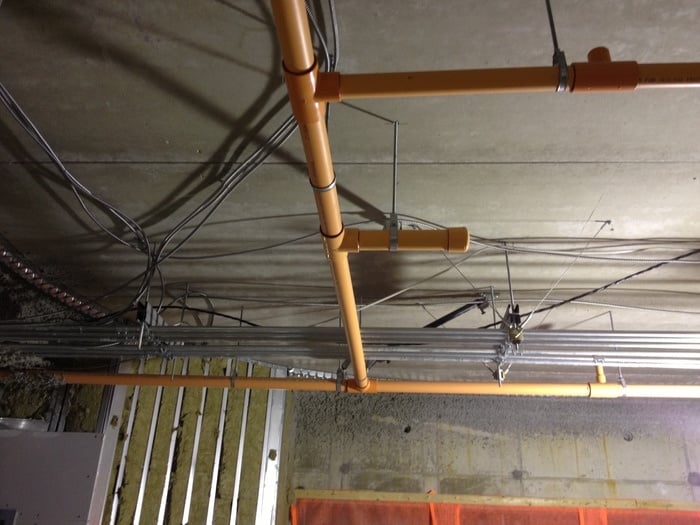 Subscribe
How to Navigate Fire Sprinkler System Material Selection and Bracing Requirements in Seismic Regions
All light hazard fire sprinkler system applications in seismic regions must have a properly braced system in order to withstand the effects of possible earthquakes. Strict building codes and requirements exist to ensure the safety of citizens, especially those along fault lines.
With lives at stake, fire sprinkler system specifiers and installers must select the proper materials and meet bracing requirements.
The Importance of Seismic Bracing
While not all earthquakes are notable from a building codes standpoint, the National Earthquake Information Center (NEIC) locates about 30,000 earthquakes each year, which translates into approximately 80 per day. These earthquakes can cause fires, so installing a fire protection system that can withstand the effects of seismic activity is vital.
As urban areas have continued to grow, the damage resulting from an earthquake—as measured both in terms of the loss of human lives, as well as structural collapse—have increased substantially. As a result, we have seen industry-wide initiatives to improve the post-earthquake reliability of fire safety systems through stricter bracing requirements and the selection of more reliable piping system materials.
Bracing for seismic activity is especially important in areas such as Canada, the west coast of the United States or along any other fault lines where earthquakes are more likely.
Misconceptions About CPVC in Seismic Regions
Many installers default to steel piping because misconceptions exist about the ability of CPVC to handle the effects of seismic activity. Field performance and lab results conducted by third-party engineers and materials scientists prove that BlazeMaster® CPVC performs as well, if not better, than steel during and after a seismic event.
For example, during an earthquake, you can't anticipate which direction inertia will move your fire sprinkler system. BlazeMaster CPVC is more flexible than steel, allowing the system to better handle movement. In steel systems, the inertia can cause failure at the joint.
Additionally, misconceptions exist about the bracing requirements needed to withstand seismic activity. Because CPVC piping is more flexible than steel piping, it requires more hangers in any system to prevent sagging pipes. However, the threat of seismic activity doesn't necessarily constitute a need for double the bracing that a steel system would require in a seismic region.
In fact, installers can use clamps to mitigate the risk of damage to CPVC piping systems during an earthquake. Some installers incorrectly think that the clamps required to brace BlazeMaster CPVC pipe will eventually lead to failure, but this is not the case. BlazeMaster CPVC is a durable yet flexible material, and when properly installed, should not experience failure due to clamps. However, UL certified cables can be used in place of clamps to eliminate this worry.
To properly design a fire sprinkler system in a seismic region, simply follow the appropriate guidelines set by NFPA and ASCE.
Designing a BlazeMaster® CPVC Fire Protection System in a Seismic Region
Contractors and specifiers must meet NFPA 13 requirements to ensure their fire sprinkler system is secure in the event of an earthquake. Between 2004 and 2007, changes were made to NFPA 13 that made rules consistent with ASCE 7-05. Most changes focused on providing additional support to a fire sprinkler system in the form of sway bracing–both lateral and longitudinal. This added support ensures that the sprinkler system will remain integral to the structure, limiting damage and remaining operable in a time of need.
Lateral and longitudinal bracing is required on all feed and cross mains regardless of size. In order to provide longitudinal bracing for BlazeMaster CPVC, a lateral brace within 24 in. (.6 m) of the centerline of the pipe to be braced is acceptable if the pipe where the lateral brace is attached is of equal or greater size than the pipe requiring bracing, according to Sprinkler Age July/August 2018.
Specifiers and installers must comply with NFPA 13 to meet the specific standards necessary for a reliable piping system in a seismic event. BlazeMaster Fire Protection Systems has many UL certified partners that give customers additional peace of mind, as those partners have met stringent requirements.
If you are interested in learning more about installing a BlazeMaster CPVC fire sprinkler system in a seismic region, contact our team of piping systems experts today.