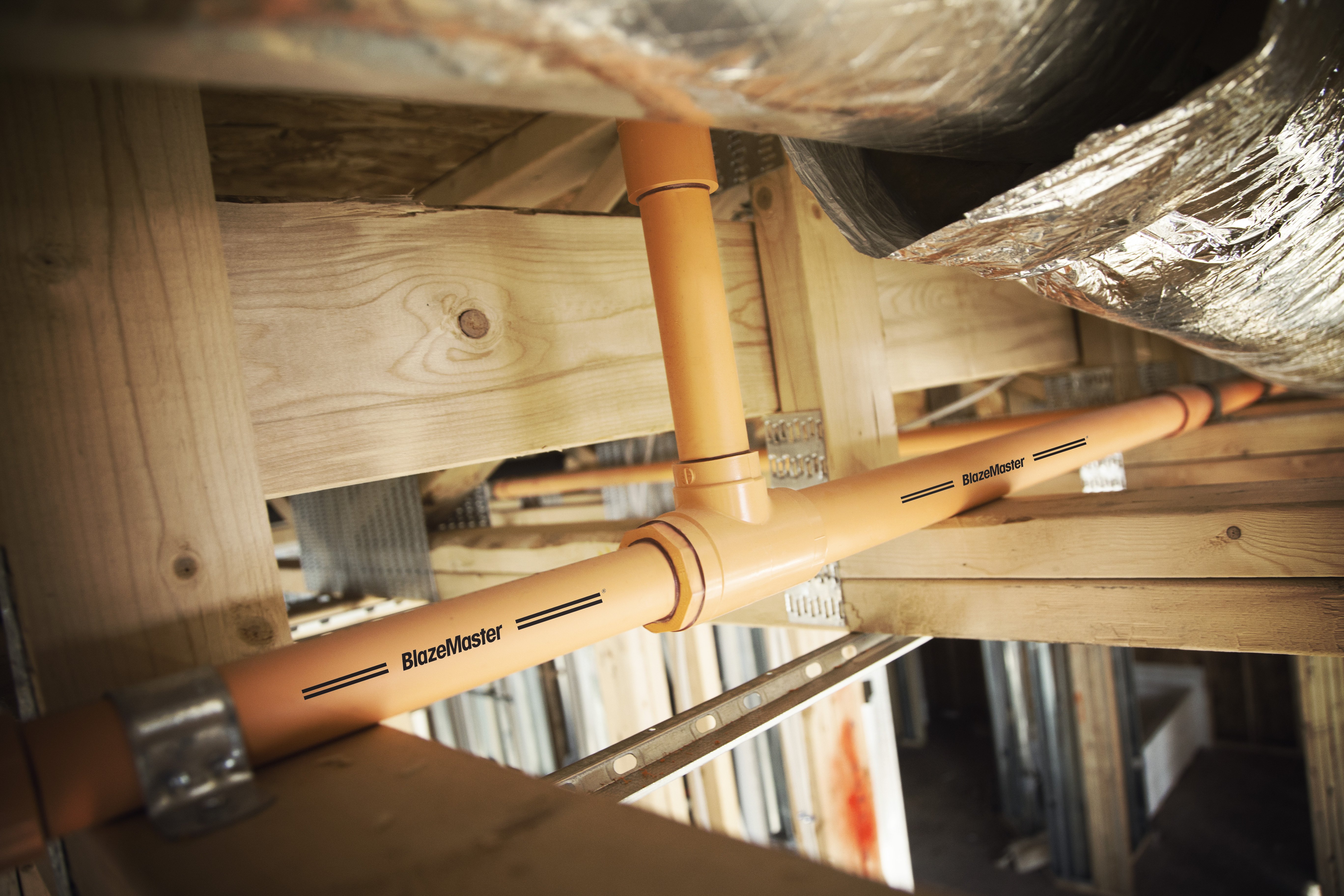 Subscribe
Home Builders Should Know: Five Reasons CPVC Beats PEX for Fire Protection System Piping
Residential | BlazeMaster vs. Generic
At the same time as more state and local codes require fire sprinkler systems – and responsible home builders in areas where they are not required offer such systems as options to their buyers – the discussion of what piping material is best suited for single family home installations has been tossed around by many builders. This has brought the question of using CPVC or PEX systems to the forefront.
Because of changes in standards and codes, PEX may now be used in NFPA 13D single family housing for both multipurpose and standalone systems. BlazeMaster® CPVC – which has been listed to the requirements of NFPA 13D as an approved piping material since 1984 and is listed for all light hazard applications per NFPA 13 and NFPA 13R, where PEX is not – offers these comparisons for your consideration.
Experience. Cost. Performance. Simplicity. Reliability.
EXPERIENCE:
As the oldest brand of CPVC pipe and fitting products on the market, BlazeMaster CPVC, our manufacturing partners and the professionals who specify, design and install fire protection systems have seen it all. Our products are used in all NFPA light hazard applications; they aren't limited to single family housing alone. It stands to reason that a homeowner might prefer a system that is used in multifamily and commercial systems instead of residential only. After all, is "good enough" really a consideration when lives may be on the line? Next when the question of ancillary product compatibility comes up, only BlazeMaster offers the FBCTM System Compatible Program, the most extensive compatibility program in the industry, to help ensure quality installations every time. So in short, a 30+ year track record of success goes a long way on any resumé.
COST:
Cost comparisons also favor BlazeMaster CPVC pipe and fitting systems. When comparing standalone CPVC versus PEX systems, the material alone can be significantly less with CPVC. Added components, like costly Sprinkler Head Adapters and pressure reducing valves, are a normal part of a PEX 13D standalone system. While a CPVC standalone system also has Sprinkler Head Adapters, they are not costly, and a CPVC system in the 13D standard does not require a pressure reducing valve because CPVC piping has a pressure bearing capability 30% greater than PEX. A cost study comparing standalone systems to multipurpose systems showed that a builder may pay hundreds of dollars more per installation in a multipurpose system (connecting the sprinkler system with the cold water system). This study used six designs to meet specific requirements for the California Residential Code, using a 2,412 square foot home as the model. Only one of the six comparisons showed a zero-sum differential; the remaining five all favored CPVC over PEX.
PERFORMANCE:
BlazeMaster CPVC's performance capabilities outshine PEX as its pipe and fittings offer better hydraulic capabilities. These hydraulic capabilities keep CPVC systems using smaller pipe than PEX systems, which directly affect the cost of the system. The internal diameter of the CPVC pipe (Iron Pipe Size SDR 13.5) delivers greater hydraulic flow as compared to PEX (Copper Tube Size, or CTS, SDR 9). The most important thing in fire protection is gallons per minute to the sprinkler head. The PEX tubing's smaller internal diameter decreases the volume of water capable of being delivered to that sprinkler head. The CPVC pipe, on the other hand, can deliver significantly more water size by size versus PEX. Keeping the pipe size down decreases the cost of the system. Many times, an SFH in CPVC will be able to be designed using almost all ¾" CPVC where the same design with PEX would require most if not all of the SFH to be 1". The bottom line: CPVC provides greater hydraulic flow using less material. That's another cost-saving advantage of CPVC.
SIMPLICITY:
CPVC systems are typically designed and installed by dedicated fire protection professionals. That's not always the case with PEX systems. PEX systems are often designed by PEX tubing manufacturers and when they are, the system is installed by plumbers who are also busy installing waste, water and gas piping systems in new home construction. CPVC pipe is joined by solvent welding, which, done correctly is always the strongest part of a fire protection system. PEX tubing is mechanically connected, the weakest point of such a system. In addition, CPVC makes it easier for an installer to place sprinkler heads in a room. PEX systems head adapters must be mounted to wood – which can make placement difficult – requiring blocking for installation. CPVC hangers and brackets simplify the installation process, and rarely require blocking for sprinkler head adapters.
RELIABILITY:
While there is no requirement in the standard comparing the flammability of CPVC piping and PEX tubing, there is a big difference. In an actual fire, PEX tubing and fittings once ignited will burn fast and easy. Also once ignited, it will stay lit. BlazeMaster CPVC pipe and fittings do not easily burn or sustain a flame. Rather, CPVC will burn when a flame is present but will char slowing the flames penetration into the piping system and not propagate flames or burn on its own. This difference in combustibility shows that your PEX fire protection tubing will always need to be concealed behind a fire resistant barrier, where CPVC has listings to be exposed in all types of construction Single Family Homes, Apartments and Light Hazard Commercial. It would be an interesting question to pose to a PEX manufacturer as to how their tubing would perform in a commercial application.
BlazeMaster CPVC – The Choice of Professionals
There are several brands of CPVC fire protection materials on the market. BlazeMaster CPVC is the gold standard among them, thanks to quality engineering and manufacturing and a dedication to excellence that is well known in the industry. We produced compounds that are converted into pipe and fittings specifically engineered for the fire protection market. Give that some thought the next time you are approached about installing the same PEX tubing that runs to a fixture's supply line as a fire protection system.
It's all about quality and protecting lives. We encourage you to find a professional fire sprinkler contractor for the design and installation of your fire sprinkler system. If you need any assistance, contact a BlazeMaster piping system consultant.
To learn more about the advantages afforded by BlazeMaster CPVC, download our brand comparison guide.