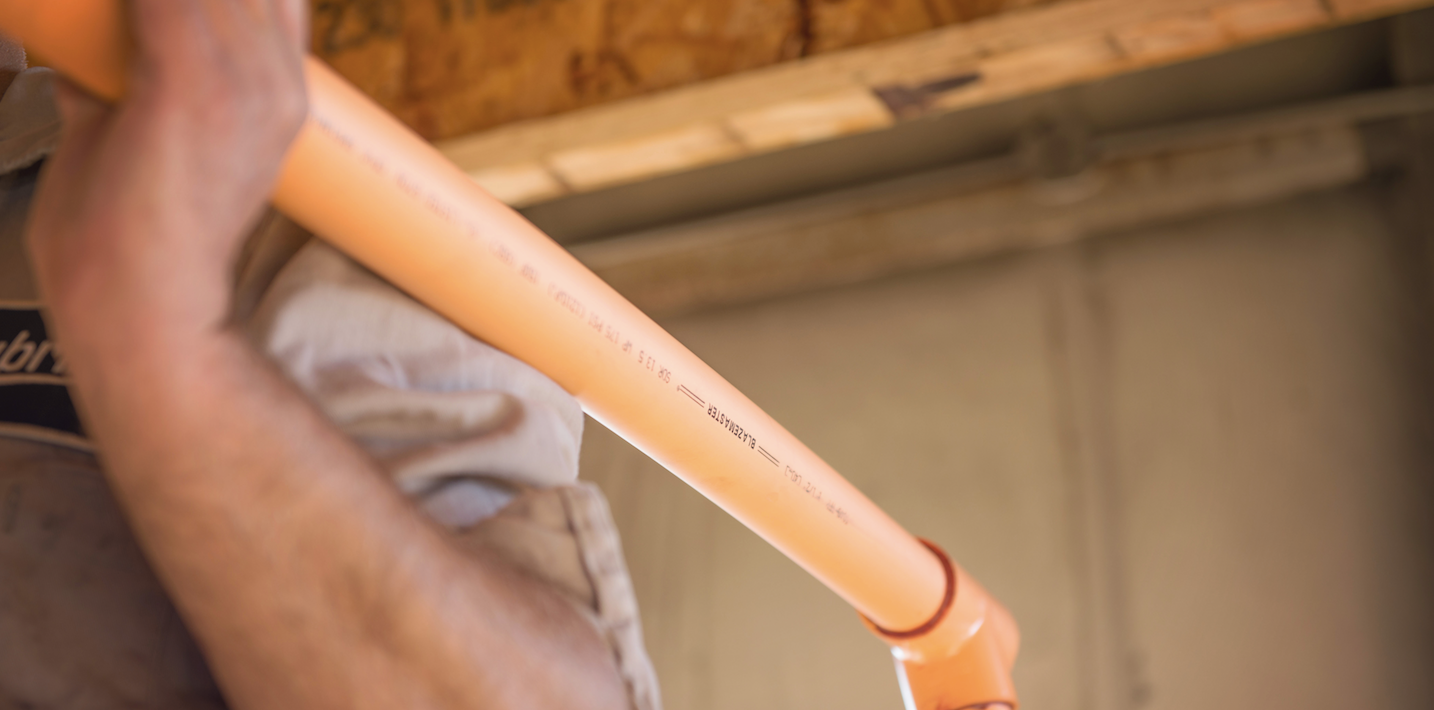 Subscribe
Exposed Pipe Installation Significantly Reduces Cost of Fire Sprinkler Retrofit at the University of Kansas
Faced with a city ordinance that required its chapter house in Lawrence, Kansas, to be sprinklered before it could be occupied, Alpha Xi Delta Fraternity, Inc. solicited a number of bids from local contractors. The bids offered recommendations regarding the most cost-and time-efficient installation.
"It became quickly apparent to us that we didn't have a lot of options," explained Kim Frye-Olesker, Director of Housing for Alpha Xi Delta's national operation. "We were under a tight deadline to comply with the city ordinance and we wanted to rent the premises quickly so as to minimize the amount of rent income we lost."
Exposed Pipe Significantly Lowers Cost
Primarily for cost reasons, the decision was made to run the sprinkler pipe exposed. "When we saw all of the bids coming in significantly over our expected budget, we started looking for ways to reduce costs," said Frye- Olesker. "This was a rental property for us, so it was important to keep costs as low as possible. In order to hide the pipe, it would have added much more cost to the job."
Deciding to run exposed pipe was also a matter of practicality. "The main building was very old, having been built in the 1920s, and was covered in brick and stucco," Frye-Olesker explained. "If you've ever tried to hang a picture on a stucco wall, you know how hard it is to even drive a nail through, let alone drill a hole for the pipe through it."
CPVC Chosen Over Steel
With the decision made with regard to exposed pipe, Alpha Xi Delta turned to National Fire Suppression, a division of Western States Fire Protection Co., because they offered the most competitive bid and the best solution. "Our biggest cost advantage came from our preference to install BlazeMaster® CPVC fire sprinkler pipe instead of steel," explained Craig Barulich, Contract Sales Representative for Western States.
BlazeMaster CPVC fire sprinkler systems offer numerous cost advantages, with the greatest savings coming from labor. Not only is the CPVC lighter in weight and easier to move on the job site, but it is installed with an easy-to-use, one-step solvent cement joining system. Welding isn't required, which eliminates the need for torches and other potentially dangerous equipment.
Additionally, CPVC pipe, unlike metal, does not require pre-fabrication. Rather, it can be cut on the job site to meet exacting specifications.
"We have found that when we have to go through existing walls, the job is much easier to complete with CPVC," explained Barulich. "Our steel pipe is pre-cut in the shop, so if we run into something unexpected behind the walls, we're stuck with what the engineering department created. You never know what you'll hit inside an older building... maybe a stud or wire. The CPVC pipe is more flexible in that it allows us to make on-the-job alterations. In addition, metal pipe is messier to install because of the oil residue left behind from the threading and fabrication process. That makes it less desirable in a retrofit situation."
Exposed CPVC Pipe Is Easier To Paint Than Steel
One other appealing advantage of BlazeMaster CPVC pipe for Alpha Xi Delta was the ease with which it could be painted with latex paint. "We didn't want to just leave exposed pipe along the walls and ceilings. It would have been too conspicuous, so the decision was made to paint the pipe so that it would blend in with the surroundings. The installation really turned out nicely," explained Frye-Olesker.
According to Barulich, metal is more challenging to paint than CPVC. "With metal, you must first clean the oil residue off the pipe. Since no oil is used in the fabrication of the BlazeMaster CPVC system, you can immediately start to paint."
Quicker Installation with BlazeMaster® CPVC Pipe
In addition to the cost and labor savings resulting from the decision to use BlazeMaster pipe and fittings, Alpha Xi Delta realized yet another major advantage—a faster installation. "We were not allowed to occupy the building until the sprinklers were in," Frye-Olesker explained. "That meant we were losing rent money each month that the building remained empty. Because the installation of the BlazeMaster pipe was so much faster, we only lost the rent for the month of June. Had we installed metal pipe, the installation would have easily taken more of the summer, resulting in additional rent losses for July and even August."
Responsible for 110 chapters nationwide, including 65 residence houses, Frye-Olesker has direct experience with numerous fire sprinkler retrofits. "This was, without a doubt, the fastest, smoothest fire sprinkler installation I've ever seen," she noted. "We expected the project to last all summer and were pleasantly surprised when it was completed within three weeks. I would prefer to use a BlazeMaster CPVC system all the time just because there are fewer issues and problems."
Barulich, who has more than ten years in the fire sprinkler contracting business, agrees. "There is just no better alternative," he said. "With the kind of conditions present on this project, the BlazeMaster CPVC system was absolutely the best choice."
To learn how you can lower the cost and improve the speed of your next fire sprinkler system installation, contact our team of piping systems consultants.