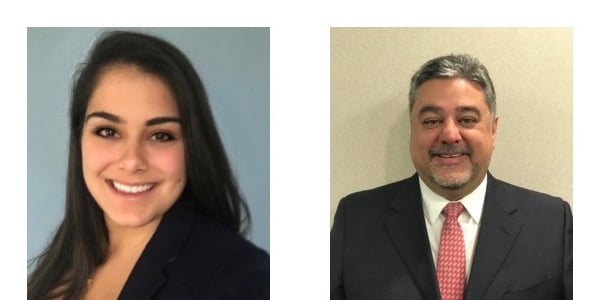 Subscribe
BlazeMaster® CPVC Welcomes Lainey Liotta and Sean Pearce
It's my pleasure to welcome Lainey Liotta and Sean Pearce to the BlazeMaster® Fire Protection Systems team of industry professionals. I am always proud of the fact that we are able to attract such talented individuals.
Lainey comes to us from the manufacturing side of the fire protection business, having served as one of our manufacturing partners with Tyco Fire Protection Products – now part of Johnson Controls – for nearly five years before moving into the HVAC-R world of refrigerants, where she spent the last two years with The Chemours Company. Lainey has taken on the role of Fire Protection Market Manager for BlazeMaster CPVC. Perhaps you've already seen her name on our site, as she has already contributed to the BlazeMaster Fire Protection Systems blog.
Sean joins us with a broad background in the fire protection industry, spending 17 years with Toronto Fire Services, the city's all hazards emergency response organization, before joining the Canadian Automatic Sprinkler Association (CASA). He's served on numerous code committees across Canada and remains involved with provincial and municipal fire safety initiatives. Most recently he's served as a consultant to support the needs of private companies, ministries and municipalities. Sean joins us as Business Development Manager, working with the BlazeMaster Fire Protection Systems sales team.
Let me share with you a bit more about Lainey and Sean.
Lainey Liotta
A native of Franklin, Pennsylvania and graduate of Penn State University, Lainey Liotta has an extensive background in both the construction and fire protection industries. She gained a wealth of knowledge while working as a member of the Tyco Fire Protection Products team – starting as an intern and progressing to the role of Global Product Manager, Residential Products & Programs.
She's enthused by the passion of the people who work in this industry, and cites the daily goal of protecting lives and property as one of the most satisfying parts of working in the industry. In her days before "going pro," she thought of fire safety, as so many do, as "smoke detectors and emergency exits." Contrast that with her outlook today as an industry thought leader who looks up when entering a room, immediately identifying the type of sprinkler used and assessing its placement – a true professional's professional.
Her immediate goals include executing the launch of some exciting new products (which you'll hear about in the months to come) and getting immediately involved in industry associations such as AFSA and NFSA. Long term, she hopes to drive innovation that will assist BlazeMaster CPVC manufacturing and distribution partners as well as end-users, working to continually raise awareness of the industry and the benefits of BlazeMaster CPVC pipe and fittings. She sees a tremendous opportunity for growth in commercial spaces, competing with steel pipe, and maintaining for BlazeMaster CPVC pipe and fittings a leadership role in residential and light hazard applications.
She was attracted to joining BlazeMaster Fire Protection Systems through her work with us while at Tyco, developing an admiration for our ability to market and provide support to all three segments of the value chain – manufacturer, distributor and contractor – driving business in both directions throughout the chain.
Lainey has relocated to the Cleveland, Ohio area, BlazeMaster CPVC's headquarters. That's a move into the Cleveland Browns' and Ohio State Buckeyes' territory – a big step, she allows, for a lifelong Pittsburgh Steelers' and Penn State Nittany Lion fan.
Sean Pearce
Sean Pearce has spent his professional lifetime dedicated to fire and life safety. In that time, he has discovered that innovation and making automatic fire safety systems affordable and reliable will save more lives, prevent more injuries and reduce property damage than any other intervention.
Sean's nearly 20 years with the Toronto Fire Service saw his service grow over time – as a frontline fire fighter, Captain-in-Training and as Executive Officer to the Fire Chief, responsible for bylaw management, foreign affairs and public relations, in addition to other duties. His move to CASA saw him become involved with Canadian Provincial and National code committees. These included the retrofit of care facilities; fire code changes; high rise residential fire sprinkler requirements and the compulsory certification of the fire sprinkler industry in Ontario, among many others. He also served on committees with the Canadian Home Builders Association.
After leaving CASA, he supported several fire and life safety contractors before starting a consulting company supporting the needs of private companies, ministries and municipalities regarding fire and life safety issues. He continues to support The Government of Ontario – Ministry of Senior Affairs with the implementation of a $20 million fire sprinkler retrofit funding program for retirement homes, as well as the City of Calgary and server clients in Calgary on the first fully-sprinklered community in North America.
A graduate of the University of Toronto and current resident of Richmond Hill in metropolitan Toronto, Sean's immediate goals include expanding the use of BlazeMaster CPVC in all markets as a reliable, affordable fire sprinkler system. He believes that focusing on education at all levels – authorities having jurisdiction (AHJs), engineers, designers and installers – and breaking down the misconceptions about CPVC in general will help in this mission.
He is passionate about working with manufacturers and distributors to ensure that education takes place with every potential client, promoting BlazeMaster CPVC as a solution to fire/life safety problem – and with that comes the responsibility to act accordingly. He sees every new system and every head installed as a success, and is dedicated to growing the BlazeMaster CPVC brand and product offering as we continue to have a positive influence on human lives.
I'm excited about working with Lainey and Sean, and I hope you are as well. Please join me in congratulating them and wishing them both the very best as the newest members of the BlazeMaster Fire Protection Systems team.