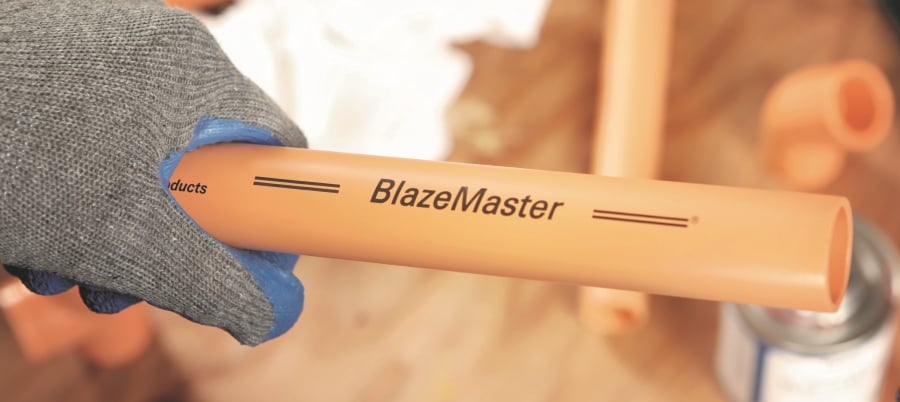 Subscribe
Be Sure You're Buying the Best CPVC for Fire Sprinkler Systems
Blazemaster CPVC | BlazeMaster vs. Generic
As a fire protection professional, you want to use the best CPVC to protect people and property for commercial and residential projects. You probably know that BlazeMaster® Fire Protection Systems offers important advantages over competing CPVC brands.
But we often hear from contractors who think that all orange CPVC is made with BlazeMaster compound, regardless of the manufacturer. That couldn't be further from the truth.
In fact, we only sell our products to three manufacturers in North America: Viking, Tyco (Johnson Controls), and IPEX. If you buy pipe and fittings manufactured by another company, you're not buying BlazeMaster pipe and fitting systems, the world's most specified nonmetallic fire sprinkler system, and you won't benefit from our science, service, safety promise.
It's important to know what you are buying because, like with sprinkler heads, different brands of CPVC can have different listings and performance levels. BlazeMaster fire sprinkler systems' unique formulation allows it to outperform all other brands of CPVC pipe and fittings. Differences in manufacturing, material science and chemical processing among CPVC brands directly translate to performance and reliability disparities. BlazeMaster fire sprinkler systems not only meet standards, codes and approvals, but in some cases exceed the requirements. Such is the case with burst and impact resistance testing.
Get the Best: BlazeMaster Pipe and Fitting Systems
Here are three ways you can be certain you get BlazeMaster fire sprinkler systems:
Know the manufacturers. In North America, BlazeMaster fire sprinkler systems are manufactured by three companies that meet our rigorous quality standards: Viking, Tyco (Johnson Controls), and IPEX in Canada. These companies have a proven track record in extruding and molding our compound into the highest quality pipe and fittings. If the pipe is not labeled with one of these three companies, it's not BlazeMaster CPVC.
Work with your distributors. Check to see if your distributor carries BlazeMaster pipe and fittings – and knows the difference with competing products. We can work with distributors to help them understand why the unique characteristics of BlazeMaster pipe and fittings are so important.
Ask for BlazeMaster fire sprinkler systems by name. It's important to be specific so your distributor knows you'll settle for nothing less.
With these simple steps, you can make sure you get BlazeMaster pipe and fitting systems – the foundation for a life-saving sprinkler system that will perform for decades. With over 2 billion feet of BlazeMaster pipe installed globally, BlazeMaster fire sprinkler systems is the most widely specified non-metallic pipe in the world.
Making the Case for BlazeMaster Fire Protection Systems
Here are five reasons BlazeMaster pipe and fittings are the most specified nonmetallic piping system in the world.
The quality of the CPVC in a fire sprinkler system can be a matter of life or death. Our commitment to science, service and safety ensures BlazeMaster pipe and fittings systems work as planned. To learn more about why all orange pipe is not created equal, download Choosing the Right Orange: CPVC Fire Protection Brand Comparison Guide.