6 Common Misconceptions About CPVC Fire Protection Systems
While steel fire protection systems have been the traditional choice for retrofits and residential applications, CPVC, or chlorinated polyvinyl chloride, has a proven track record of cost-effective and time-saving installations. With 600 million meters (1,968 feet) of piping system installed in more than 60 countries, BlazeMaster® CPVC Fire Protection Systems has become a safe, secure and reliable alternative material to steel in fire sprinkler systems.
Still, some installers and specifiers have reservations about CPVC's suitability for fire protection systems. Below, we dispel some of the common myths we hear from contractors and building owners.
Myth 1: "CPVC will surely melt in a fire."
Fact: CPVC piping has achieved the best possible fire-protection classification of a non-metal material, which is Bs1d0:
Fire behavior: B = low flammability with no contribution to flashover.
Smoke development: s1 = low smoke development.
Flaming droplets: d0 = no burning drops.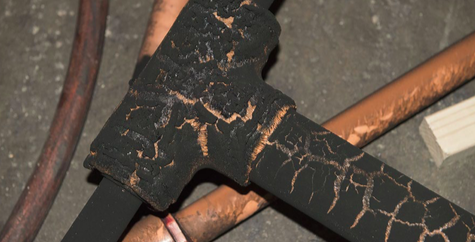 During a UL test, as shown in the picture above, a fire plume between 370°C (698℉) and 483°C (901.4℉) came in direct contact with BlazeMaster CPVC piping for 10 minutes.
This example shows that when exposed to a fire, CPVC piping forms a charring layer on the pipe's exterior, which then functions as a thermal barrier to reduce heat conduction. Water flowing through the pipe also cools the inside, further reducing the burning rate.
Myth 2: "CPVC is too expensive."
Fact: With an easy one-step solvent cement joining system, BlazeMaster Fire Protection Systems require:
Reduced installation time, saving labor costs.
No additional tooling, saving money on hire and maintenance.
Lower life-cycle costs, saving on long-term maintenance.
A recent study found that using BlazeMaster Fire Protection Systems for a retrofit in a 40-bed care home would take fewer than half the installation hours (only 640 vs. 1,320), generating a significant saving in project cost.
To learn more about the cost effectiveness of BlazeMaster CPVC, check out our recent blog post, "How CPVC in Fire Protection Systems Saves Time and Money".
Myth 3: "It won't perform as well as steel."
Fact: BlazeMaster CPVC piping systems offer superior hydraulics compared to steel, that:
Achieve C-factor of 150 for hydraulic capabilities, unlike steel which has a starting C-factor of 120 and decreases over time.
Do not corrode over time like steel.
As steel piping corrodes, water flow levels decline. Conversely, CPVC keeps the piping system ready for an emergency by preventing scaling and corrosion for more than 50 years. A BlazeMaster CPVC fire protection system also provides natural immunity to microbiologically influenced corrosion (MIC).
Myth 4: "CPVC is bad for the environment."
Fact: According to a 2011 ISO-compliant, peer-reviewed life-cycle assessment, BlazeMaster Fire Protection Systems outperform steel in 12 out of 13 environmental categories, including:
Climate change impact.
Metal depletion.
Energy consumption.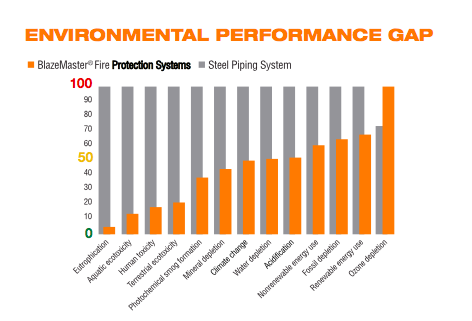 This means that BlazeMaster Fire Protection Systems have half the climate change impact compared to steel.
"BlazeMaster Fire Protection Systems emerged as a much stronger choice for an environmentally friendly fire sprinkler solution." - Michael Collins, Technical Director Environmental Resources Management
Myth 5: "It's not approved by industry bodies."
Fact: BlazeMaster Fire Protection Systems have long been an approved solution in the United States and United Kingdom for all of your retrofitting and residential fire sprinkler requirements. As well as being listed by UL, FM Global and LPCB, they also meet:
NFPA 13 - light hazard occupancies: The design and installation of automatic fire protection systems benchmark.
BS9251: The main British Standard covering UK fire sprinklers.
BS EN 12845: The classification of hazards and provision of water supplies.
ASTM 4120-06: The international standards for testing and materials. BlazeMaster is the first and only CPVC manufacturer to meet ASTM 4120-06.
NSF/ANSI 14 and NSF/ANSI 16: International certification for potable water conveyance for Plastics Piping System Components and Related Materials & Drinking Water System Components - Health Effects.
BlazeMaster Fire Protection Systems have also been approved for use across single-family residences, multi-family occupancies and retrofit projects, proving that they are viable solution for installers and specifiers.
Myth 6: "It's hard to install."
Fact: BlazeMaster Fire Protection Systems are actually easy and quick to install for many reasons. Installation can be completed with a simple one-step joining system, which eliminates the need for torches or heat-fusion techniques, electricity and prefabrication.
Not only does CPVC piping offer an easier installation, it also:
Offers a cleaner and quieter installation.
Does not require the building to be abandoned.
Minimizes disturbance to tenants during retrofit installations.
Reduces installation time, and therefore, costs, compared to steel.
Is lightweight, meaning installations in hard-to-reach areas are much easier and special equipment is not required to move it around a project.
BlazeMaster CPVC Provides the Reliability You Need
Engineered for fire protection through groundbreaking R&D at Lubrizol, BlazeMaster technology continues to set the industry standard.
As an installer, specifier or builder, do you hold any misconceptions about CPVC? Our team of piping systems consultants are available to speak with you about BlazeMaster CPVC, or your next fire protection requirements. Schedule a free consultation.
It's also worth noting that not all orange pipe is the same. If you're looking for reliability for life, choose BlazeMaster Fire Protection Systems.