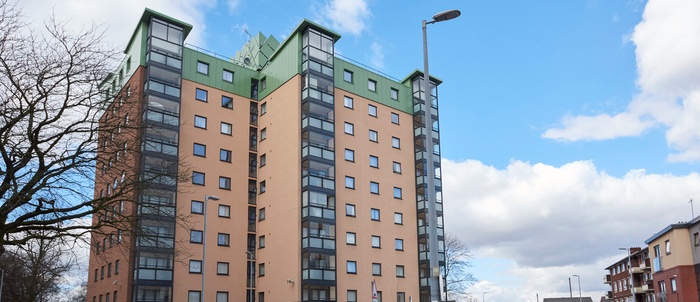 BlazeMaster® Fire Protection Systems Brings Peace of Mind to Barton Village Residents
In light of the tragedy at London's Grenfell Tower, the role of sprinkler protection is now in the public eye more than ever before.
With tenants and property owners requesting the best protection, Protect Twenty Four, who has worked in partnership with Springhead Sprinklers, is an active partner in providing the best solutions to residential and commercial properties. Specifically, to refurbished ones.
One of City West's properties, Barton Village, required a quick, clean installation handled in an expedient manner. Specifically focused on installing the best product with little disruption to tenants, City West trusted Protect Twenty Four with the decision on the best sprinkler system. After using BlazeMaster® Fire Sprinkler Systems for many residential refurbished projects, Protect Twenty Four trusted its capabilities and presented it as the best choice.
The BlazeMaster® Fire Protection Systems Difference
With experience using BlazeMaster Fire Sprinkler Systems, Protect Twenty Four knew they could trust its expertise on the latest regulations. Presented with a tight timeline to increase the client's cost savings, the team immediately got to work.
The moment they began installation, installers found the usual ease working with BlazeMaster Fire Protection Systems and manufacturing partner Viking. From the speed of product delivery to the onsite technical support, BlazeMaster Fire Protection Systems' partnership with Viking made the process perfectly seamless.
In addition, tenant liaison officers had the opportunity to talk with residents and explain what to expect before, during and after installation. This helped to deliver essential peace of mind to tenants.
Quick Installation Makes Tenants Happy
Protect Twenty Four's decision to use BlazeMaster Fire Sprinkler Systems led to reduced labour, increased cost savings and happy tenants.

By selecting a product that was easily accessible and seamlessly installed, it enabled the project to stay on schedule and limit inconveniences to current tenants.

"City West was very happy with our decision to go with BlazeMaster Fire Sprinkler Systems. All of their feedback from tenants has been positive. They feel safer with the new installations, especially in light of recent events," said Steven Reed of Springhead Sprinklers.

To learn how BlazeMaster Fire Protection Systems can give your tenants peace of mind, contact our team of piping system consultants today.