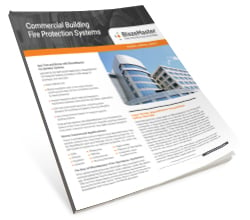 Commercial Projects: Save Time and Money With BlazeMaster® Fire Protection Systems
While misconceptions persist that BlazeMaster® fire sprinkler systems are only for residential buildings, it is in fact the best choice for commercial projects as well. BlazeMaster pipe and fittings are UL listed for use in any light hazard applications as defined by NFPA 13, including offices, high rises, hospitals, schools and many others.
Download our Commercial guide to learn how BlazeMaster fire sprinkler systems can help you:
Save on material costs through superior hydraulics. With a C-Factor of 150, compared to 120 for steel, system designers can specify smaller diameter pipe while ensuring the same level of water flow.

Reduce labor costs with efficient installation. Lightweight BlazeMaster pipe and fittings are easy to move around a job site, and the one-step solvent cement welding process means fabrication and installation is a one-person job. That reduces labor costs compared to steel, which requires multiple installers.

Control maintenance expenses through natural resistance to corrosion, scaling and Microbiologically Influenced Corrosion (MIC). Unlike steel pipe, BlazeMaster CPVC naturally resists corrosion – even in salt air environments and areas with fluctuating pH balances – and it's also naturally immune to scaling and MIC.

Reduce disruption for building tenants during retrofits. The clean, quiet and fast installation process enables contractors to meet tight deadlines with minimal noise and inconvenience for occupants.

Deliver superior sustainability metrics. Support green building goals by using BlazeMaster fire sprinkler systems, which outperformed steel pipe on 12 of 13 categories on an ISO-compliant environmental study.
Please complete the form to download the guide.