With figures revealing that only one in 50 of the UK's social housing tower blocks has full sprinkler systems, the government has since revealed that no funding will be put towards funding the retrofit of existing tower blocks. With last year showing a 21% increase in fire deaths and, since then, cuts being made to emergency services across the UK, many are remonstrating that more should be done to protect the homes of those that remain vulnerable in high-rise flats.
All fire protection systems are designed to save lives and protect property. But, depending on their design, certain systems can also reduce labor and material costs.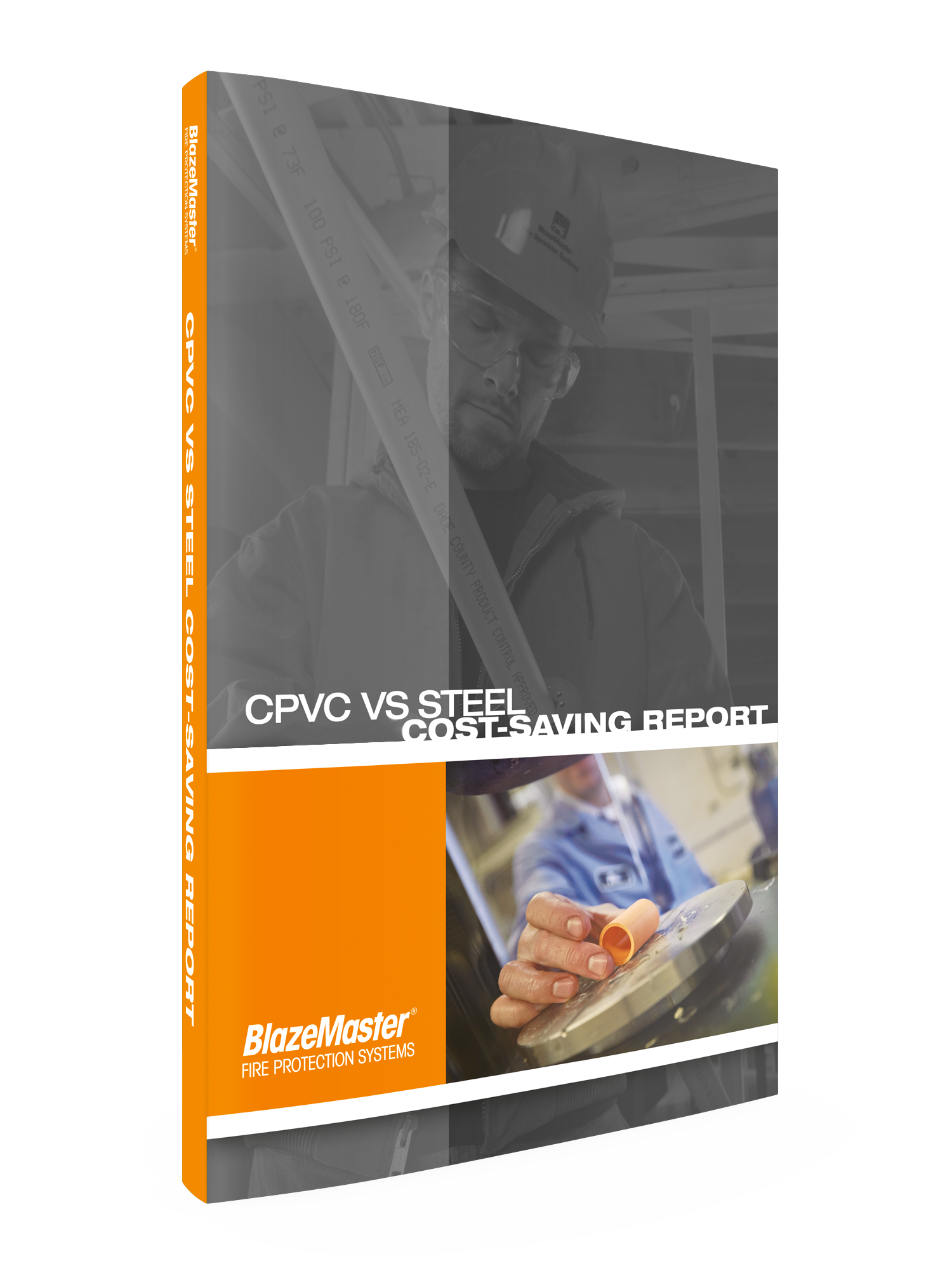 2018 Cost-Savings Report
Discover how to save time and money with the right fire sprinkler system.
Building owners and installers navigate many challenges when it comes to high-rise retrofits: occupant disruption, installation costs and speed of installation just to name a few. CPVC outperforms steel in each of these areas to allow for a quick, safe and cost-effective fire sprinkler system installation. CPVC maximizes flexibility and threatens traditional steel fire protection systems with benefits building owners and installers cannot afford to overlook.
CPVC broke into the plumbing and industrial piping industry in the late 1950's, but it took a couple of decades to reach the highly regulated fire protection segment.
BlazeMaster® CPVC Fire Protection Systems are a proven reliable choice for fire sprinkler systems in residential and commercial buildings. Installation is quick and easy, and it saves time and money compared to steel piping. However, CPVC can be damaged by contact with chemicals found in some ancillary construction products. To ease the burden associated with researching and selecting accompanying construction products, Lubrizol developed the FBC™ System Compatible Program. All products that have gone through the rigorous testing and are proven to be chemically compatible with BlazeMaster CPVC display the Program's trademarked logo on their label. The Program also includes ancillary products that are incompatible and should not be used with Lubrizol's CPVC.
CPVC installation is quick, easy, and cost-effective. Installation of CPVC piping is done through a simple one-step joining system so no torches or heat-fusion techniques are needed. Additionally, because CPVC is lightweight, installations in hard-to-reach places are completed more easily. Whether you've used BlazeMaster® Pipe and Fittings before or if this is your first time, following best practices will ensure proper installation and a reliable, long-lasting fire sprinkler system.
Like many campuses across the country, Benedictine College in Atchison, Kansas (about one hour north of Kansas City), not long ago found itself in need of additional student housing due to an increase in its student population. The administration first turned its attention to its old Freshman Hall (now called Ferrell Hall), which had remained empty since the 1970s.
While steel fire protection systems have been the traditional choice for retrofits and residential applications, CPVC, or chlorinated polyvinyl chloride, has a proven track record of cost-effective and time-saving installations. With 600 million meters (1,968 feet) of piping system installed in more than 60 countries, BlazeMaster® CPVC Fire Protection Systems has become a safe, secure and reliable alternative material to steel in fire sprinkler systems.
In light of the tragedy at London's Grenfell Tower, the role of sprinkler protection is now in the public eye more than ever before.
The Tyco® Rapid Seal Adapter is the newest addition to its BlazeMaster® Fire Protection offering. Made with BlazeMaster CPVC, this all-CPVC fitting simplifies the way sprinkler heads are installed into fire protection systems.