Home builders can add value to their new home offerings and attract buyers by including fire sprinkler systems.
BlazeMaster vs. Generic | BlazeMaster vs. Steel
Fire sprinkler systems are designed to protect lives and property. But for building owners and contractors, the system must also protect your reputation from risks ranging from leaks and malfunctions to disruptions for occupants.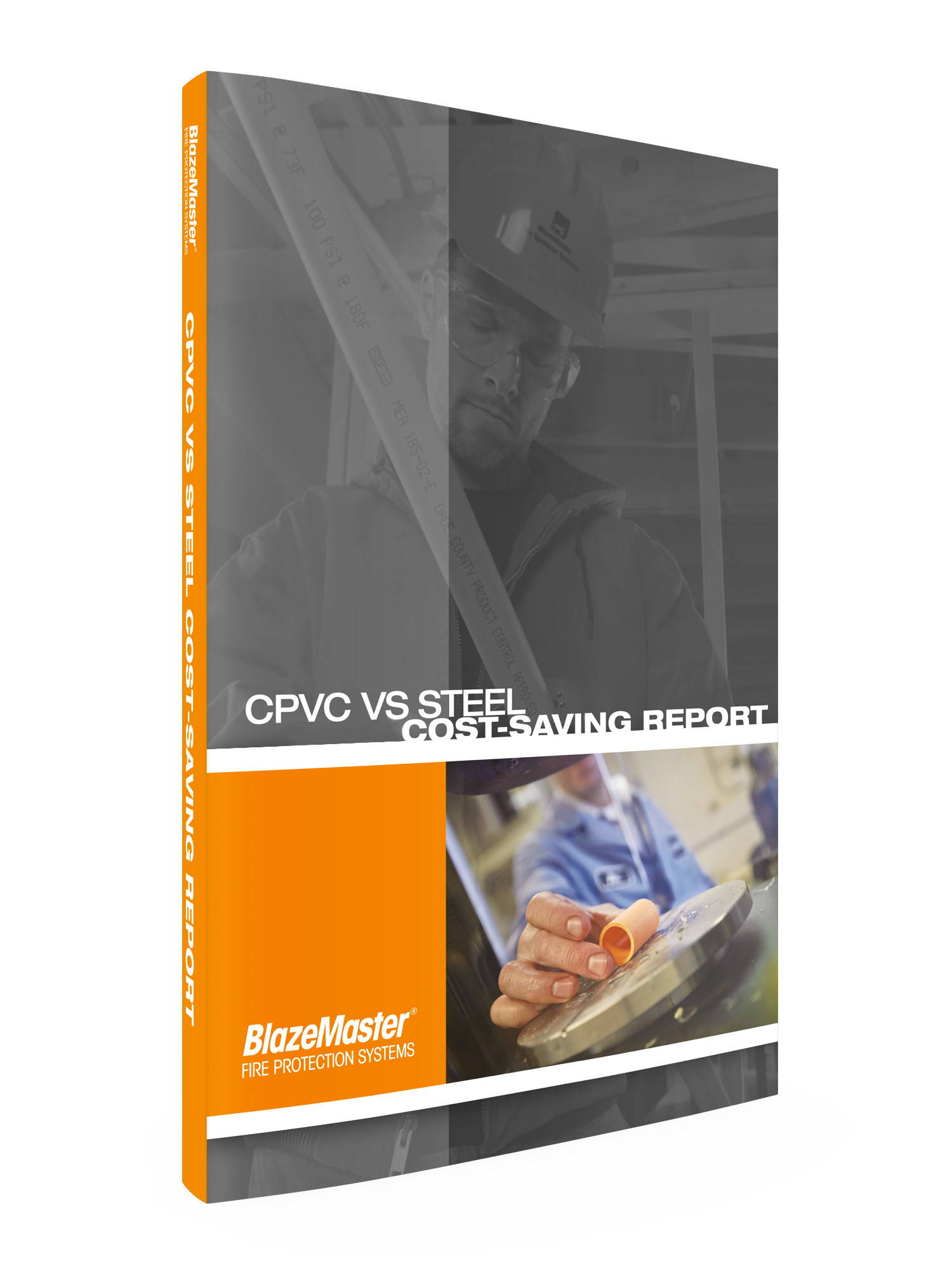 Cost-Savings Report
Discover how to save time and money with the right fire sprinkler system.
BlazeMaster vs. Generic | BlazeMaster vs. Steel
It's a fact: BlazeMaster® CPVC is the world's most specified non-metallic fire sprinkler system pipe and fitting material. Every day since it was introduced in 1984, BlazeMaster CPVC has saved the lives of countless individuals, firefighters and other safety professionals and prevented property damage.
A bill recently introduced in Congress seeks to encourage building owners to invest in fire sprinkler retrofits by accelerating the depreciation rate for high-rise residential and non-residential buildings to 15 years. Current depreciation rates are 39 years for non-residential buildings and 27.5 for residential properties.
Listings and Innovations | Residential
A new section of the 2019 edition of NFPA 13 (16.3.9.6.2) specifically states that nonmetallic piping, including CPVC, may be used in fire sprinkler systems in private garages within a dwelling as long as the garage space:
BlazeMaster vs. Steel | Commercial | Listings and Innovations
Fire sprinkler system installers who are looking for a competitive edge have a unique opportunity when using BlazeMaster® CPVC pipe and fittings. As concrete is used as a building material for ceilings and walls in office buildings, schools, apartments, health care facilities and even private homes, it's good to know that BlazeMaster CPVC has a unique Underwriter's Laboratories (UL) listing for embedding in concrete.
More communities across the nation require residential fire sprinklers in new home construction than ever. That is definitely a positive step in terms of safety for homeowners and first responders.
Whether you have been installing BlazeMaster® Fire Protection Systems for 10 years or 10 days, it's always a good idea to go back to the basics once in a while. Just as professional athletes practice the same play or motion over and over, they sit down for a "chalk talk" on occasion to discuss they "whys" behind the "whats."
Somewhere, a fire started last night that resulted in minimal damage to property. No lives were lost. No firefighter was put in harm's way. There may be an insurance claim or two, but it isn't as devastating as it might have been.
Most fire sprinkler systems will require modification at some point over their long lifetime of providing safety to people and protection for property.