Here are two facts that we would like to share with designers, specifiers, installers and building owners regarding the use of BlazeMaster® CPVC in combustible concealed spaces:
Hospital MRI rooms pose specific challenges to fire sprinkler systems. Because of the need to protect sensitive MRI equipment from electrical and magnetic interference, non-ferrous materials must be used to protect this valuable life-saving equipment. Johnson Controls has just launched the Tyco® RFII-MRI 5.6 Flat-Plate Concealed Pendent Sprinkler. Used with BlazeMaster® CPVC pipe and fittings, the new sprinkler offers designers and hospital building managers an affordable non-magnetic solution.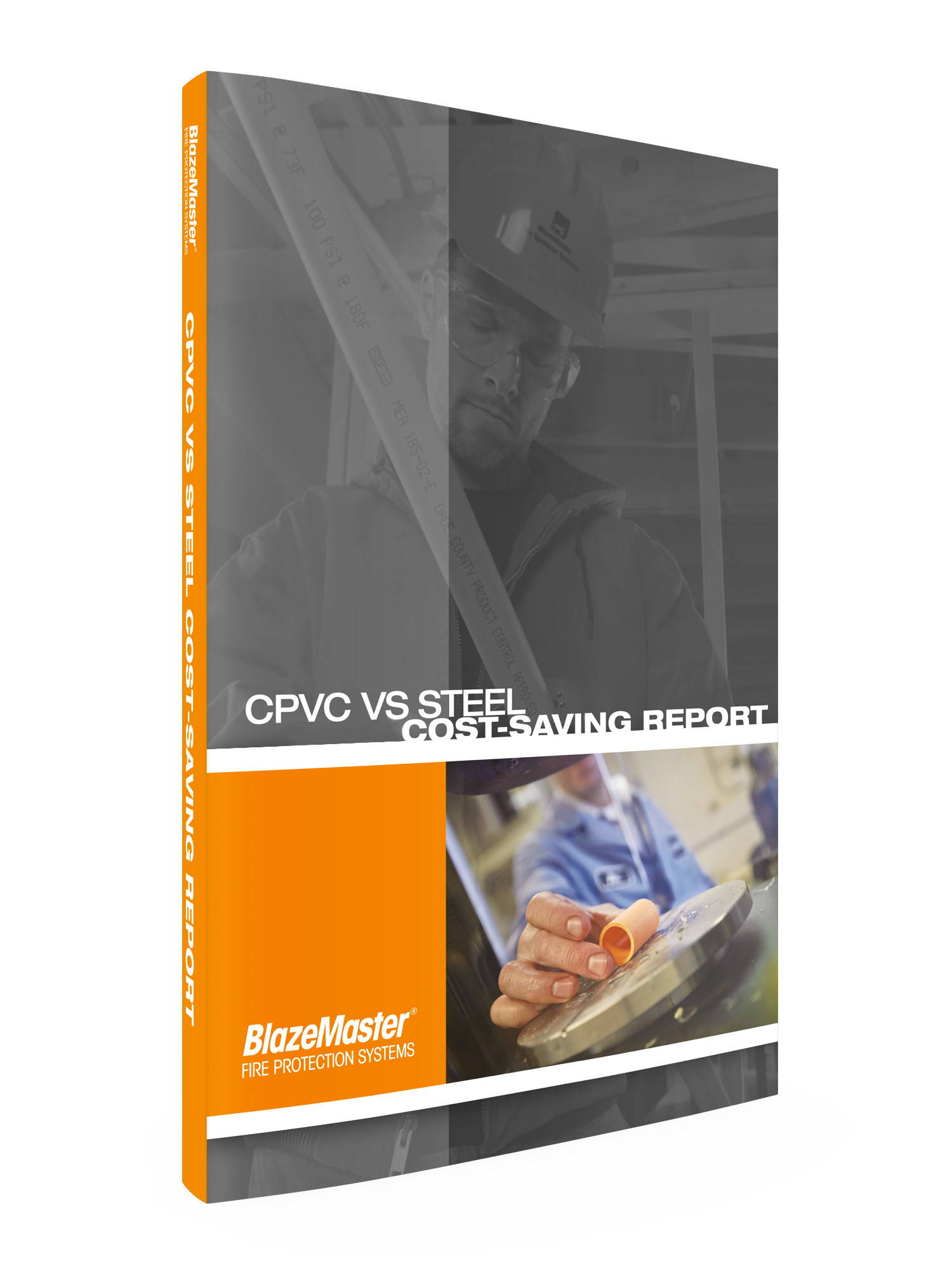 Cost-Savings Report
Discover how to save time and money with the right fire sprinkler system.
I'm often asked how new construction materials may be used in conjunction with BlazeMaster® Fire Protection Systems. Today, we'll discuss cross laminated timber (CLT), one of the most popular new products in use today for homes, multifamily and high-rise office buildings.
It could reasonably be argued that fire protection systems for school buildings are among the most noble fire safety applications of all. The safety of children as they attend schools involves all of us – as parents and concerned citizens. Certainly, all of us can remember the regular fire drills that likely began in pre-school and continued throughout our educational progress that built both awareness of fire safety and developed good habits in terms of knowing what to do in a hazardous situation. Backing those practices with a reliable fire protection system is just one more way of ensuring the well-being of students as they prepare for the future.
It's my pleasure to welcome Lainey Liotta and Sean Pearce to the BlazeMaster® Fire Protection Systems team of industry professionals. I am always proud of the fact that we are able to attract such talented individuals.
In the course of installing a CPVC fire sprinkler system in virtually any setting, the potential for the pipe and fittings to come into contact with flexible wire and cable presents itself. While BlazeMaster® CPVC realizes that this may be inevitable, we strongly recommend that fire protection system installers do their best to work with other contractors and review jobsite notification documents from piping manufacturers to avoid such contact if at all possible. If building design requires that the piping and wiring/cabling be installed in tight spaces where contact is unavoidable, consider using a compatible material as a buffer between the two.
Homes for Our Troops (HFOT) is a publicly-funded 501(c)(3) nonprofit organization that builds and donates specially adapted custom homes nationwide for severely injured post-September 11th veterans to enable them to rebuild their lives. Most of these veterans have sustained injuries including multiple limb amputations, partial or full paralysis, and/or severe traumatic brain injury (TBI).
At the same time as more state and local codes require fire sprinkler systems – and responsible home builders in areas where they are not required offer such systems as options to their buyers – the discussion of what piping material is best suited for single family home installations has been tossed around by many builders. This has brought the question of using CPVC or PEX systems to the forefront.
Mold and microbial inhibitors are sometimes used in buildings where water damage has been sustained or where general humidity and moisture can result in mold growth. Such products have varying uses. They may be used in new construction or existing buildings as either cleaners to treat construction surfaces or primers for latex paints to remove mold, reduce mold growth or create a microbial barrier for mold prevention.
One of the best things about working with BlazeMaster® Fire Protection Systems is the opportunity to be a part of the constant innovation that takes place in our industry. I'm always enthused to learn about new offerings from our manufacturing partners that will help designers, contractors and installers to sell and install fire sprinkler systems both in commercial and residential settings.