Fire sprinkler system installers who are looking for a competitive edge have a unique opportunity when using BlazeMaster® CPVC pipe and fittings. As concrete is used as a building material for ceilings and walls in office buildings, schools, apartments, health care facilities and even private homes, it's good to know that BlazeMaster CPVC has a unique Underwriter's Laboratories (UL) listing for embedding in concrete.
More communities across the nation require residential fire sprinklers in new home construction than ever. That is definitely a positive step in terms of safety for homeowners and first responders.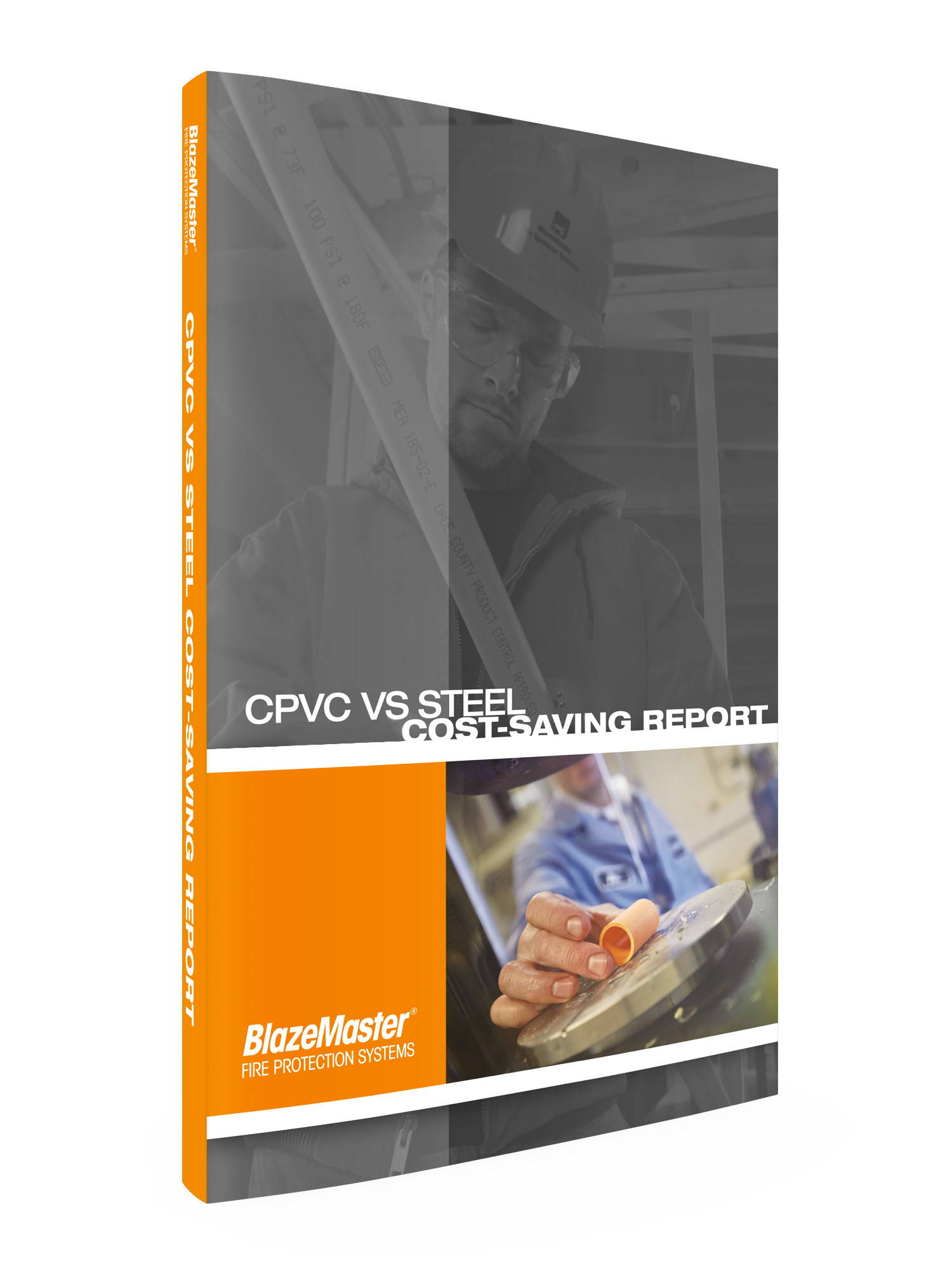 Cost-Savings Report
Discover how to save time and money with the right fire sprinkler system.
Whether you have been installing BlazeMaster® Fire Protection Systems for 10 years or 10 days, it's always a good idea to go back to the basics once in a while. Just as professional athletes practice the same play or motion over and over, they sit down for a "chalk talk" on occasion to discuss they "whys" behind the "whats."
Somewhere, a fire started last night that resulted in minimal damage to property. No lives were lost. No firefighter was put in harm's way. There may be an insurance claim or two, but it isn't as devastating as it might have been.
Most fire sprinkler systems will require modification at some point over their long lifetime of providing safety to people and protection for property.
One of the value-added services that BlazeMaster® CPVC offers is that of failure analysis. We recognize that there are occasional issues in the field. It is in everyone's best interest that the root cause of the problem be determined to help prevent it from re-occurring.
Here are two facts that we would like to share with designers, specifiers, installers and building owners regarding the use of BlazeMaster® CPVC in combustible concealed spaces:
Hospital MRI rooms pose specific challenges to fire sprinkler systems. Because of the need to protect sensitive MRI equipment from electrical and magnetic interference, non-ferrous materials must be used to protect this valuable life-saving equipment. Johnson Controls has just launched the Tyco® RFII-MRI 5.6 Flat-Plate Concealed Pendent Sprinkler. Used with BlazeMaster® CPVC pipe and fittings, the new sprinkler offers designers and hospital building managers an affordable non-magnetic solution.
I'm often asked how new construction materials may be used in conjunction with BlazeMaster® Fire Protection Systems. Today, we'll discuss cross laminated timber (CLT), one of the most popular new products in use today for homes, multifamily and high-rise office buildings.
It could reasonably be argued that fire protection systems for school buildings are among the most noble fire safety applications of all. The safety of children as they attend schools involves all of us – as parents and concerned citizens. Certainly, all of us can remember the regular fire drills that likely began in pre-school and continued throughout our educational progress that built both awareness of fire safety and developed good habits in terms of knowing what to do in a hazardous situation. Backing those practices with a reliable fire protection system is just one more way of ensuring the well-being of students as they prepare for the future.