Cost Savings | Material Comparison | UK Resources
Steel piping for fire protection systems has become a traditional fixture in new builds and retrofit projects throughout the UK. But with CPVC pipes coming onto the market, should steel still be the preferred material for fire protection systems? In this blog, we compare CPVC and steel against each other to see which performs best on five key areas, including installation, cost, corrosion, hydraulics and the environment.
Since creating CPVC piping over 50 years ago, we have heard many misconceptions by professionals within the industry. Below you will find the most common myths about CPVC piping, allowing you to make an informed decision when choosing fire sprinkler piping for your next installation.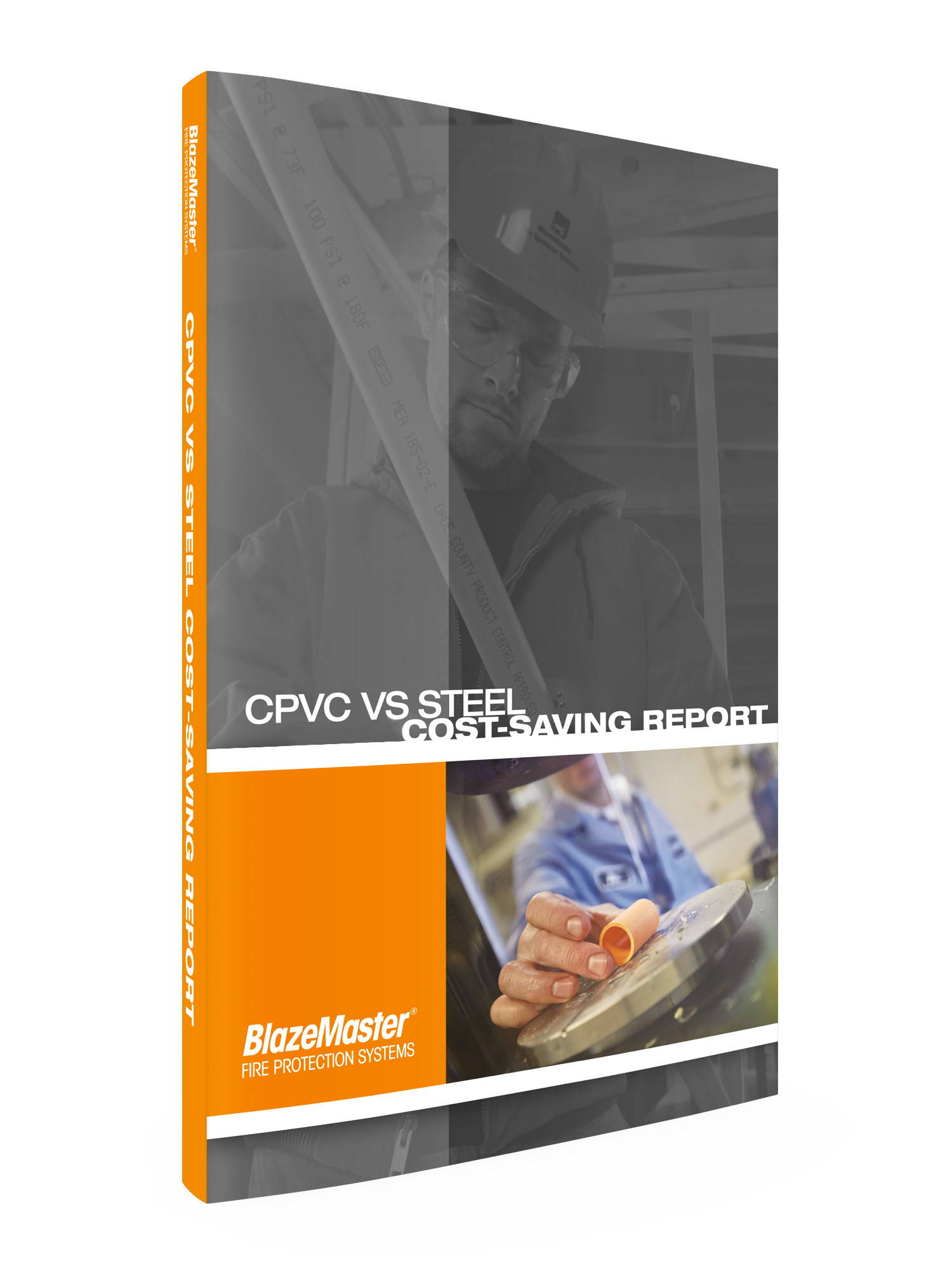 2018 Cost-Savings Report
Discover how to save time and money with the right fire sprinkler system.
The Royal Institute of British Architects (RIBA) has called for compulsory fire sprinkler systems in new and refurbished buildings within the UK. RIBA is the latest to provide support and guidance to the government since the London tragedy in June 2017, after submitting its recommendations in a response to the UK government's Independent Review of Building Regulations and Fire Safety. The government's review will assess the current landscape of building and fire safety regulations and how effective they currently stand, in order to build a 'robust regulatory system for the future.'
BlazeMaster® CPVC piping is a speciality thermoplastic used reliably for decades. It poses a real challenge to traditional materials found in fire sprinkler systems. By using BlazeMaster CPVC products for fire sprinkler systems, installers and specifiers can benefit from piping that is both durable and lightweight, as well as possessing superior hydraulics and being quick and easy to assemble. Here, we have compiled important information for the industry to better understand the material properties of BlazeMaster CPVC piping, along with its capabilities when used for fire sprinkler systems.
Building Owners | Case Study | UK Resources
When a leading marine offshore engineering company, SLP Engineering of Lowestoft, U.K., constructed the free-standing accommodation platform for the Claymore offshore oil platform complex on behalf of Elf Enterprise Caledonia Limited, one of the key aspects to be considered was the installation of an effective, reliable fire sprinkler system.
Case Study | Commercial | UK Resources
When the decision was made to rebuild and expand the Park Community School in Hampshire, U.K., school and fire safety officials wanted the new buildings to have the best possible fire sprinkler systems. Seeking a material that is affordable and widely available, as well as easy to install, they chose BlazeMaster® Fire Sprinkler Systems.
Cost Savings | Retrofit | UK Resources
As the debate rages on in the UK about how to best implement effective fire protection measures, a report by the British Automatic Fire Sprinkler Association (BAFSA), originally published in 2012, is proving to be more relevant than ever.
Case Study | Compatibility | Specification | UK Resources
One of the most common myths in the entire fire protection industry is that because CPVC is made of a type of plastic, it will melt and fail in a serious fire hazard. Using CPVC as a material for fire sprinkler systems has been tried and tested since the 1980s when BlazeMaster® CPVC piping gained a reputation as the first listed and approved non-metallic fire sprinkler system for NFPA light hazard occupancies. What is the science behind the system enabling it to function reliably during fire hazards? Read on to find out why a CPVC fire sprinkler pipe will retain its integrity in a blaze, buying end users vital time to get to safety.
BlazeMaster® Building Information Modeling (BIM) objects and specifications are now available to download. In just a few clicks, integrate BlazeMaster fire protection systems—including CPVC pipe and fittings into your CAD designs for accurate, detailed drawings of any residential or commercial construction.
Whether winter is hot on your heels or you're experiencing an unexpectedly chilly June day, a fire sprinkler installation in cold temperatures can be a challenge, whatever material you're using. The BlazeMaster® Fire Protection Systems team receive numerous queries as to appropriate temperatures, circumstances and factors that may affect BlazeMaster fire sprinkler system installations in cold weather. With forecasters stating that the UK facing is facing its coldest winter in five years, installers will need to be fully prepared when facing installations in the chilly weather.