Cost Savings | Specification | UK Resources
The use of CPVC (chlorinated polyvinyl chloride - a polymer) fire protection pipes and systems is becoming more and more the standard. Over 2 billion feet of BlazeMaster® CPVC fire sprinkler pipes alone have been installed in more than 60 countries worldwide, including the UK. While CPVC stands up to its reputation of having a lower cost of install compared to steel, the integrity and safety that the system provides are sometimes misunderstood within the industry. In this article, we take a deeper look at the safety of CPVC fire sprinkler pipes and the UK approvals it has achieved to rival steel as the product of choice.
In a time where fire safety is on the public agenda more than ever, many have questions regarding the use, safety and adaptability of fire sprinklers. Many people still hold a number of misconceptions regarding fire sprinkler systems, usually with worries about their reliability. Yet fire sprinkler systems are here for the protection of our lives and property - they are tested, trusted and reliable. This blog will provide some clarity to some of the most frequently asked questions about fire sprinkler systems for commercial and residential usage: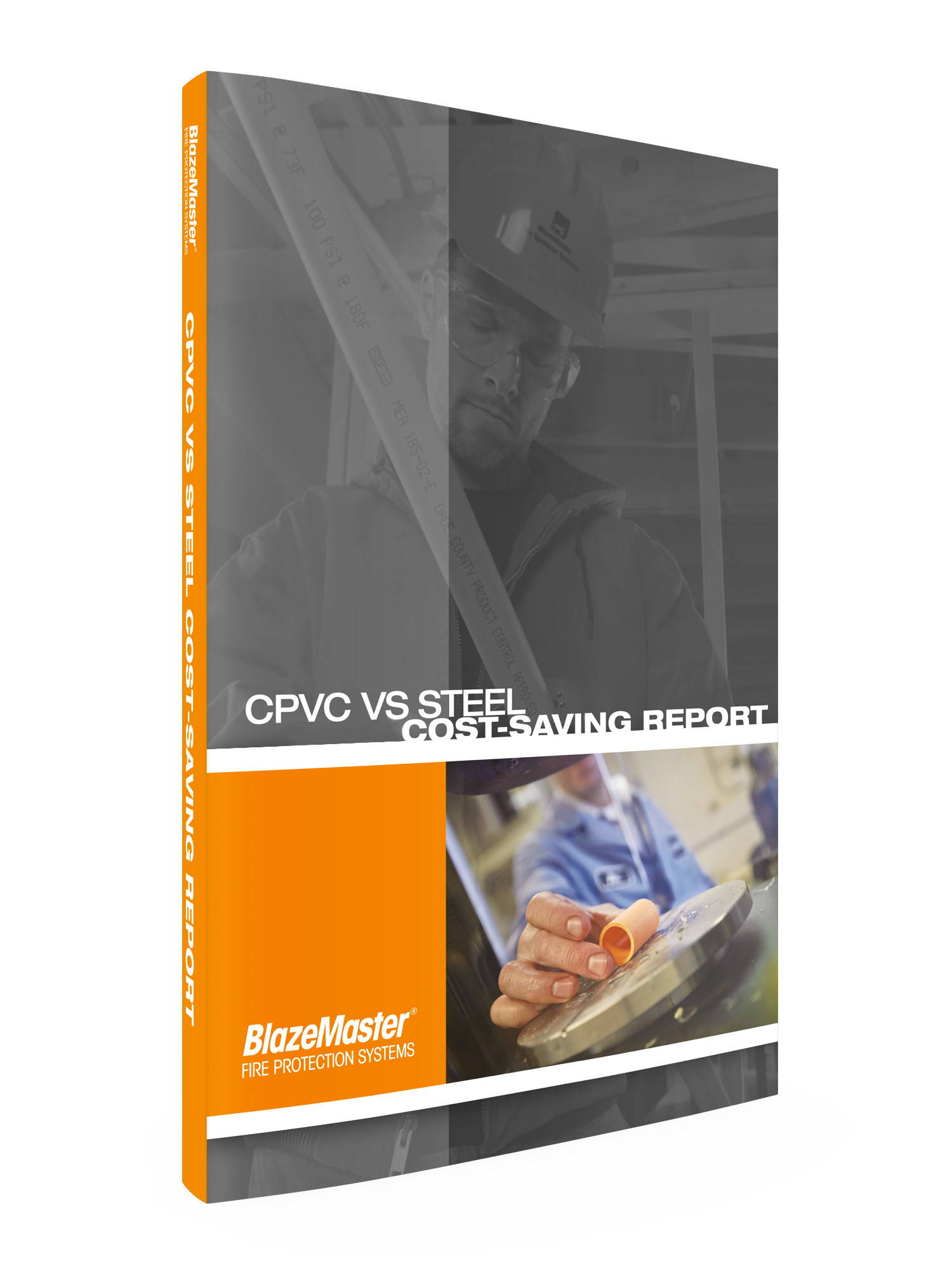 2018 Cost-Savings Report
Discover how to save time and money with the right fire sprinkler system.
When a large school in Hampshire looked to rebuild and expand, fire safety officials had many things to consider in determining the best possible fire protection system. How could they: Minimise classroom disruption, Find a system flexible enough to accommodate design changes Do it all at a reasonable cost? They decided on the use of BlazeMaster® CPVC fire protection pipes and fittings. CPVC is becoming more and more the standard, as over 2 billion feet of BlazeMaster CPVC fire protection pipes have now been installed in more than 60 countries worldwide, including the UK.
In a world that is more environmentally-conscious than ever, installers and specifiers in the fire protection industry are seeking eco-friendly materials to meet the demands of their new and prospective clients. Corporate social responsibility expert and contributor to the thought-leadership Forbes website, Susan McPherson, explains the shift in consciousness of businesses. "In the past decade, we've witnessed a stunning transition as corporate social responsibility (CSR) evolved from a nice-to-have silo to a fundamental strategic priority for businesses large and small." "Under new challenges and changing regulations, companies won't just uphold their commitments to sustainability - they will be at the forefront of global progress like never before."
Material Comparison | UK Resources
BlazeMaster® Fire Protection Systems is pleased to launch their essential Guide To CPVC Fire Sprinklers, helping specifiers and installers in the fire protection industry understand the benefits that CPVC can provide, compared to traditional steel solutions. Reduced costs, quicker installations and environmental and corrosion benefits have helped CPVC rival steel for use on residential projects. This guide, which is available as a free download, will give you insight into how these fire protection systems can help your company to grow and offer your clients an alternative to steel.
Residential | Retrofit | UK Resources
As you would have noticed within the industry, there is a growing demand to retrofit fire sprinklers in residential buildings. The most vulnerable people in our society, such as the elderly, need protecting as their illness or lack of mobility may hamper their ability to escape in an emergency. Research from the American National Fire Protection Association (NFPA) has found that only 55% of nursing home fires had sprinklers present. Properties with wet pipe sprinklers suffered 61% lower direct property damage as a result, compared to properties with no automatic extinguishing equipment. The case for retrofit fire protection systems has been clearly justified, but sometimes the complexities of installing a steel system can mean projects become expensive, lengthy and involve a significant disruption of the residents.
Moving away from traditional steel is a hard decision to make, if you haven't worked with Chlorinated Polyvinyl Chloride (CPVC) systems before. You may already know of the significant benefits that CPVC can offer over steel, including lower cost and quicker installations, as well as fewer disruptions for residents in retrofit projects. BlazeMaster® CPVC pipe and fittings, from the US corporation Lubrizol, have grown to become the most specified nonmetallic fire protection system in the world. They are approved for the following applications: Single-family residential, duplexes and mobile homes Multi-family residential Light-hazard commercial use, including hospitals, schools, long-term care facilities and high-rise residential buildings Here, we look at the finer details of why CPVC systems for residential fire protection systems are the best choice for specifiers and installers, and consider the advantages of choosing BlazeMaster branded Fire Protection Systems to help keep health and safety your top priority.
Cost Savings | Material Comparison | UK Resources
Steel piping for fire protection systems has become a traditional fixture in new builds and retrofit projects throughout the UK. But with CPVC pipes coming onto the market, should steel still be the preferred material for fire protection systems? In this blog, we compare CPVC and steel against each other to see which performs best on five key areas, including installation, cost, corrosion, hydraulics and the environment.
Since creating CPVC piping over 50 years ago, we have heard many misconceptions by professionals within the industry. Below you will find the most common myths about CPVC piping, allowing you to make an informed decision when choosing fire sprinkler piping for your next installation.
The Royal Institute of British Architects (RIBA) has called for compulsory fire sprinkler systems in new and refurbished buildings within the UK. RIBA is the latest to provide support and guidance to the government since the London tragedy in June 2017, after submitting its recommendations in a response to the UK government's Independent Review of Building Regulations and Fire Safety. The government's review will assess the current landscape of building and fire safety regulations and how effective they currently stand, in order to build a 'robust regulatory system for the future.'