Installing BlazeMaster® Fire Protection Systems is always best left to the professionals for a fast, easy and cost-effective project that will provide years of reliable service.
As the pioneer of CPVC fire protection systems, BlazeMaster® CPVC is backed by 60 years of chemical experience and industrial innovation. As such, we take safety seriously and encourage those working with our products to do so at all times.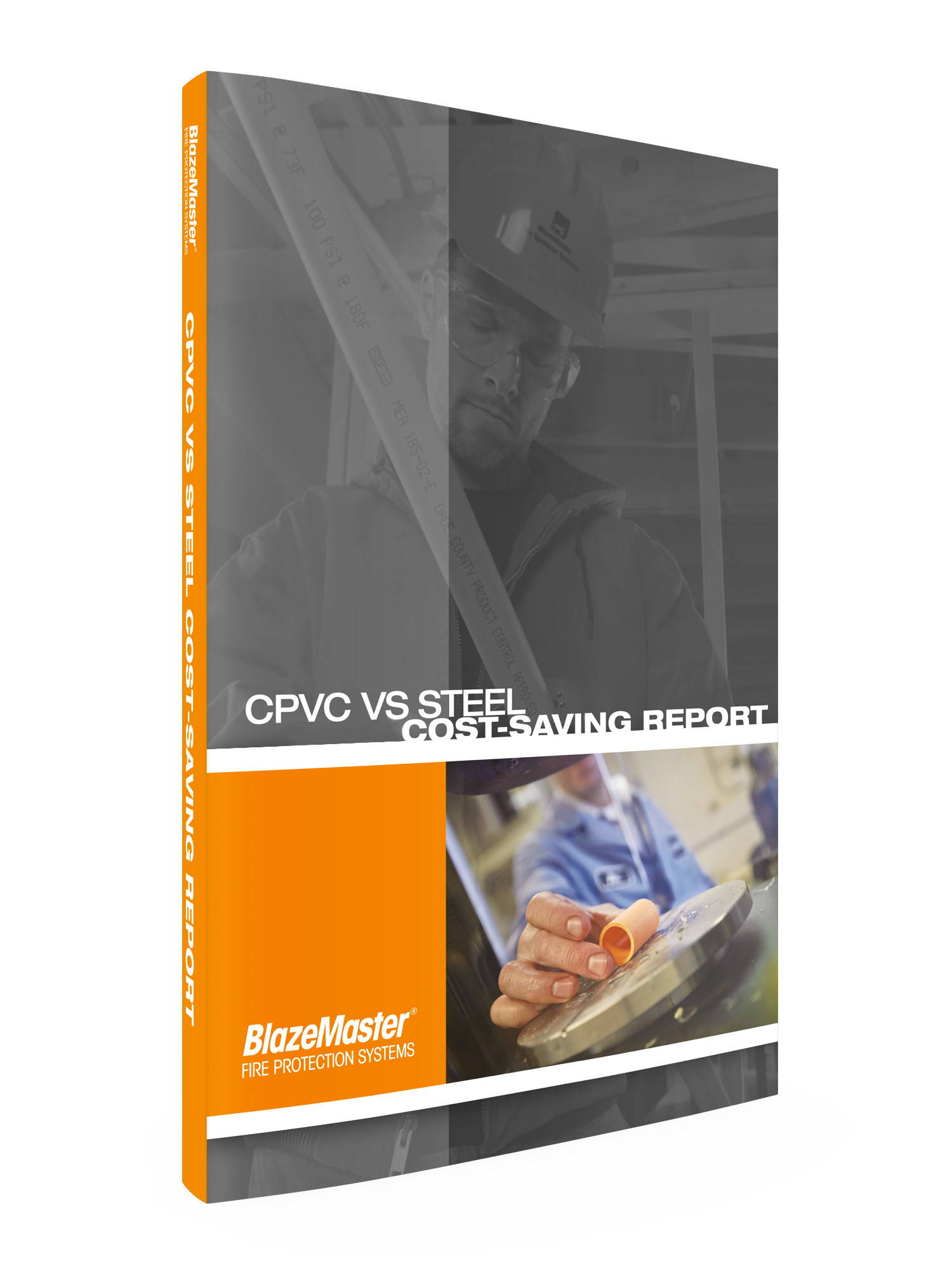 2018 Cost-Savings Report
Discover how to save time and money with the right fire sprinkler system.
Fire sprinkler system fitters across the nation are seeing a surge in business as the demand for retrofitting sprinkler systems in medium-rise and high-rise tower blocks as well as single family homes continues to grow.
Extremely encouraging news was announced in the March issue of the National Fire Sprinkler Network's (NFSN) newsletter. It was reported that more than 1,000 tower blocks have been retrofitted with fire protection systems.
In September 2017 – three months after the Grenfell fire – The Guardian reported that approximately two percent of the UK's council tower blocks had fire protection systems.
The Grenfell fire was a wake-up call for all of us in the United Kingdom and has resulted in governmental bodies, block owners and homeowners taking steps to protect themselves, their tenants and their properties in a variety of ways.
Cost Savings | Material Comparison | UK Resources
BlazeMaster® Fire Protection Systems are delighted to launch the 2018 Cost-saving report, which will give specifiers and installers an insight into the short and long term savings made by selecting a BlazeMaster CPVC fire sprinkler system. With 2018 set to be a year heavily focused on health and safety across all building types, fire sprinkler specifiers and installers will eventually approach an important question: CPVC or steel for fire sprinkler systems?
Case Studies | Residential | UK Resources
Back in November 2015, Natural Resources Minister Carl Sargeant at the Welsh Government made the announcement that all new and converted housing from 2016 onwards will include a sprinkler system. "Analysis has shown that installing sprinklers in new homes reduces avoidable death or injury arising from fires. The installation of fire protection systems will go a long way towards minimising the risk of fire devastation. They are proven to help save lives." Together with the announcement, the Welsh Government released their Domestic Sprinklers Policy, which included details on design, water supply, single dwellings and multiple-occupancy premises.
As CPVC piping — the specialised material that powers BlazeMaster® Fire Protection Systems — is a polymer, it requires a solvent cement to join the piping with the fitting. This means that a large part of getting the system up and running seamlessly is the joining process. BlazeMaster CPVC pipes and fittings have a very simple one-step joining system, which can buy installers time during the installation process in comparison to steel, leading to significant cost savings. The solvent joining process also results in a permanent chemical bond, resulting in a robust, sturdy connection that is stronger than the pipe or fitting alone. It's essential, therefore, for installers to be aware of the time it takes for solvent cement to cure before testing the system. For best practice when joining the piping, we recommend using BlazeMaster one-step solvent cement for optimum cure times during your installation. Take a look at our installation walkthrough video to see an example of how this process is carried out. Read on for guidance on solvent cement cure times and installation advice for a BlazeMaster CPVC piping system.
CPVC or steel? This is a burning question for many specifiers when exploring the market for a new installation or retrofit fire protection system. One of many myths surrounding CPVC is that it is an expensive investment. In fact, there can be significant cost savings by choosing CPVC piping for a fire sprinkler system, meaning more opportunities to provide value to customers. With UK legislation changing to ensure the amount of fire casualties falls, many will be looking for cost-effective and reliable measures to protect lives and property.